Funds Close Their Exit, Because of Brexit
U.K. property funds tell investors they can't take money out just yet.
By , , and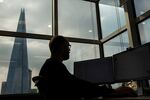 A few days before the Brexit vote, Mark Curtis thought about pulling his money from a £3.9 billion ($5.1 billion) U.K. commercial real estate fund run by Henderson Group. But then he changed his mind, convinced that Britain would remain in the European Union and the property market would keep humming.
Curtis, who lives in Bristol and works in IT, again thought about selling on June 24, after waking up to the news that the election results went the other way. Again he decided to hang on, believing it was best not to sell into a falling market. Then other real estate funds stopped allowing investors to withdraw their investments. That scared him.
"As soon as some of the other property funds said they were being suspended, I put my trade in to sell just in case to preempt Henderson," says Curtis, who says he had a five-figure investment as part of his retirement plan. "Unfortunately, whilst my trade was going through, they suspended."
Henderson is among seven U.K. asset managers that temporarily halted trading in property funds in the wake of the Brexit vote. Similar to U.S. mutual funds, the funds are open-ended, which means investors normally are free to withdraw their money whenever they want and get their share of the current value of the fund's holdings.
After the vote, though, lots of investors wanted to get out of their bets on British real estate. The fund managers became nervous about dwindling reserves of the cash they normally hold to handle redemptions and worried they'd be forced to sell in a hurry the office buildings, shopping malls, and warehouses in their portfolios, further pushing down the assets' value.
Henderson cut its asset value by 4 percent on the day of the referendum result. Others, including Aberdeen Asset Management and M&G Investments, also reduced their value. That meant any investor tempted to sell would immediately take a hit, but that wasn't enough to stop redemptions. Wealth managers and funds that buy other funds were moving fast to reduce their clients' exposure.
Then, on July 4, Scotland's Standard Life suspended trading its £2.9 billion real estate fund. The other six money managers soon followed. The suspensions must be reviewed every 28 days. "The selling process for real estate can be lengthy," Standard Life said in a statement announcing the move.
Andrew Bailey, the new chief executive officer of the Financial Conduct Authority, a U.K. regulator, has questioned publicly whether it was appropriate for funds to allow investors to take out money on short notice when the assets they hold can take three months or more to sell. "We have a mismatch in liquidity here," Martin Gilbert, chief executive of Aberdeen, said in a Bloomberg TV interview. He suggested it might be better if investors in property funds could sell only once a month.
Gilbert's firm, unlike the others, said its fund would be suspended for just a few days to give investors time to change their minds and stick with the fund. It resumed trading on July 13. Aberdeen cut the asset value of its fund more than 17 percent, on top of the earlier reduction.
Last year the Third Avenue Focused Credit Fund, a U.S. mutual fund that held junk bonds, got permission from the U.S. Securities and Exchange Commission to enact a similar freeze. In the U.K., property funds have had trouble before. Amid the 2008 financial crisis, fund suspensions and a lack of liquidity contributed to a 40 percent slump in British property prices.
This time, fund managers didn't wait until they ran out of money. At least half of the funds, including Standard Life, Henderson, and Aberdeen, still have cash on their balance sheets. Even so, fund managers have already hired real estate brokers to start selling properties, mainly London offices. The most likely buyers are overseas investors.
Curtis, the investor in Bristol, says he accepts that he's likely to lose money. "I understand that I've been part of the problem by trying to cash in and make a dash to the exit," he says. "One of my concerns is that if trading opens again and everyone still wants out of the fund, will they have enough cash available?"
The bottom line: Funds had promised that investors could get their money out daily, but held assets that are hard to sell quickly.
Before it's here, it's on the Bloomberg Terminal.
LEARN MORE