Trump, Family Meet With Pence Amid Running-Mate Speculation
Trump plans to announce his running-mate choice on Friday, people familiar with the matter said earlier.
By and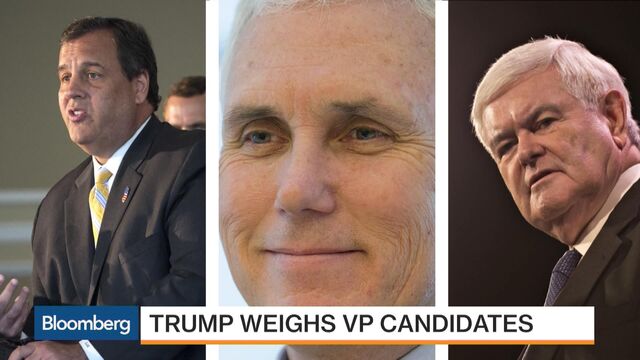 Donald Trump visited Mike Pence's residence Wednesday amid speculation that the presumptive Republican presidential nominee would choose the Indiana governor as his running mate.
Three of Trump's adult children—Donald Jr., Ivanka, and Eric—were also seen at Pence's Indianapolis home, along with Ivanka's husband, Jared Kushner, an increasingly influential figure in the campaign, and strategist Paul Manafort.
Trump plans to announce his running-mate choice on Friday, people familiar with the matter said earlier. Representatives of Trump and Pence didn't immediately respond to requests for comment on the more than hour-long meeting.
Pence joined Trump at a campaign rally in his state Tuesday night. "I don't know whether he's going to be your governor or your vice president, who the hell knows?" Trump said at the rally. 
The other leading contenders for Trump's No. 2 spot are believed to be New Jersey Governor Chris Christie and former House Speaker Newt Gingrich, who have also campaigned with Trump.
"I'm at three. Potentially four," Trump said in an excerpt of a Fox News interview about his running-mate candidates that aired after the Pence meeting. "But in my own mind, I'm probably thinking about two." Trump praised Christie as "a total professional" in the interview, the rest of which was expected to air later Wednesday.
Trump family members including Ivanka Trump and Kushner met with Christie on Tuesday, the Associated Press reported. The Trump family planned to meet with Gingrich in Indiana later Wednesday, NBC News reported. Reached by phone, Gingrich declined to comment on the report. Senator Jeff Sessions of Alabama, another politician mentioned as a possible running mate, said he was heading to Indianapolis to visit with the candidate, CNN reported.
Trump has been spending a sizable amount of time with Pence, a former U.S. congressman who could help the political novice build relationships in Washington and gain credibility with social conservatives. 
They had dinner together Tuesday at the Conrad Indianapolis, an upscale hotel, after their appearances at the rally and a fundraiser, people familiar with the matter said.
"Donald Trump knows that we can make America great again," Pence said on Twitter on Tuesday, adding that "we will not rest until we elect" Trump president. "Hillary Clinton must NEVER become the President of the United States of America!"
Trump and Pence played golf together over the Fourth of July weekend, and gathered with their wives and one of Pence's daughters.
"This was a very enjoyable personal time between two families and we got to know each other a lot better," Pence told reporters the next day. "And nothing was offered, nothing was accepted. And I'll just always be grateful for the time that we had."
Pence considered a 2016 bid for the White House himself, but ruled it out in May 2015 and faces a re-election fight this year. Nonpartisan election analysts say that race leans Republicans' way.
A schedule sent by Pence's campaign on Wednesday morning said he planned to attend a heritage festival and an agricultural roundtable discussion in the afternoon.
Fox News Channel agreed to suspend its contributor agreement with Gingrich "effective immediately," it said in a statement Tuesday, citing political speculation that could pose a conflict of interest.
In an interview with the Wall Street Journal published Tuesday, Trump said he wanted a running mate who could be a "fighter skilled in hand-to-hand combat," a description seen as more fitting of Gingrich and Christie than of the more mild-mannered Pence.
—With assistance from Mark Halperin, Mark Niquette, Kevin Cirilli, and Billy House.
Before it's here, it's on the Bloomberg Terminal.
LEARN MORE