Some Republicans to Skip Trump Convention With Foreign Trips
By and
At least eight house Republicans on trips led by two chairmen

Lawmakers will miss convention where Trump accepts nomination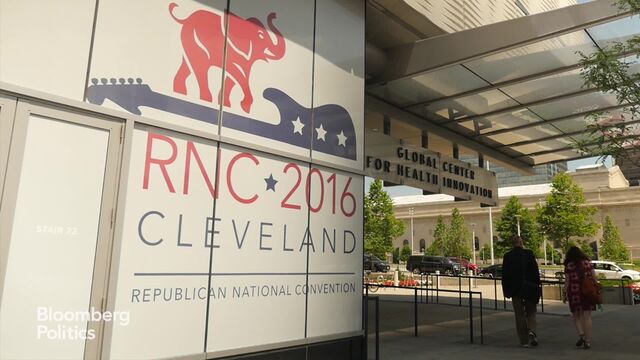 At least eight House Republicans are heading overseas next week on taxpayer-funded trips instead of watching Donald Trump accept their party's presidential nomination in Cleveland.
Congress is leaving town early so that members can attend the political conventions, but two prominent committee chairmen are taking the unusual step of leading congressional delegations to the Middle East and Europe during the event.
"It's a good time for it," said House Oversight Chairman Jason Chaffetz of Utah, who is leading a trip next week with six other House Republicans and two Democrats. 
A separate trip is being led by Armed Services Chairman Mac Thornberry of Texas, according to multiple people. "I was invited on that," said Representative John Fleming of Louisiana, a member of the committee. "But I'm going to the convention and I've got a campaign."
The overseas trips add to the unusually high number of Republicans who are skipping this year's convention. Many are leery of being too closely connected to their party's polarizing nominee, while others remain skeptical of his conservative credentials.
Both trips had to be approved by the office of Speaker Paul Ryan of Wisconsin, who is the chairman of the convention that runs from July 18 through 21. 
Security Concerns
The total roster of Republicans traveling next week on official overseas excursions exceeds eight. The names of those traveling aren't being released officially and the destinations aren't being disclosed for security reasons.
A confirmation list sent to some House members' offices shows that those expecting to join Chaffetz on his trip are Republicans Cynthia Lummis of Wyoming; Gary Palmer of Alabama; Mark Walker of North Carolina; Jody Hice of Georgia; Reid Ribble of Wisconsin; Mia Love of Utah and Bruce Westerman of Arkansas. Democrat Mike Quigley of Illinois is also listed. Chaffetz says Democrat Mark DeSaulnier of California is going, too.
Love won't go on the trip and will work in her district instead, said her spokesman, Richard Piatt, in an e-mail on Wednesday.
Chaffetz said planning for his trip began in March. He noted that Congress starts its summer break next week, which is traditionally a period where members of Congress travel abroad, ostensibly for first-hand fact-finding and meetings with foreign leaders. 
But Chaffetz also noted that while he will support the party's presidential nominee, he'd backed Senator Marco Rubio of Florida, who dropped out of the race.
Thornberry said in an interview that during his congressional career, he's been to three conventions and missed another three. He didn't disclose any details of the trip, and when asked how many members would be traveling with him, he said: "not many."
A list of those on the Thornberry-led trip couldn't immediately be obtained. But invitations weren't limited to other House Armed Services members like Fleming. 
McCain Skipping
Senate Armed Services Chairman John McCain of Arizona said he's among those who were invited -- something he described as a typical courtesy from one chamber's committee chairman to the other. 
McCain, who is facing re-election in November and has been the target of Trump insults, said he declined. He added that he isn't going to the convention, and will spend time at the Grand Canyon next week instead.
It is uncommon for Republicans to skip their party's national nominating convention to take taxpayer-funded trips overseas. There are only a few instances dating from 2012 and 2008.
House travel records show that Republican Representative Virginia Foxx of North Carolina took off for Italy in 2012 during her party's convention in Tampa. 
Records also show Republican Representative Dave Reichert of Washington arrived on Sept. 4, 2008, in Italy -- the last day of that year's Republican convention in St. Paul, Minnesota -- for a trip that would continue to Afghanistan and Pakistan. Former Representatives Tom Petri of Wisconsin and Jon Porter of Nevada also arrived that same day in Italy for the start of the multi-country trip. Former Representative Jerry Weller of Illinois went on a trip to several South American countries during the same convention.
No Hesitation
Ribble, who is planning to travel with Chaffetz, said he has no hesitation about traveling during the convention, since he has been a vocal critic of Trump. 
There were no immediate responses to requests for comment from most of the other Republicans on the trip.
Ryan Saylor, a spokesman for Westerman, said his boss was elected to serve in Congress and work for his constituents, "and was not elected to attend the Republican National Convention." Saylor said Chaffetz asked the lawmaker to go on the trip, and that it "just happens to fall in the same week."
Westerman is supporting the party's nominee and met with Trump when the New York billionaire visited in Washington with House Republicans, said Saylor. Regarding the congressman's decision not to attend the convention, Saylor said, "People can say what they want."
Taking off to foreign countries isn't the only reason some other congressional Republicans have come up with for shunning their party's Cleveland convention. 
Some, like Richard Hanna of New York, say that they don't support Trump and some of his proposed policies, and that they don't plan to vote for him in the fall. 
"I don't know that I will vote," Hanna said, speaking about the presidential contest.
The Chaffetz trip was reported first by Politico Playbook.
Before it's here, it's on the Bloomberg Terminal.
LEARN MORE