Republican Party Chairman Calls for Unity Behind Donald Trump
"Let's not lose sight of the stakes of this election," he told the RNC's 168 members.
By and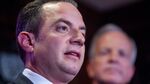 As his party prepares to formally nominate Donald Trump as its presidential nominee, Republican National Committee Chairman Reince Priebus delivered an impassioned appeal for party members to close ranks and work to defeat Hillary Clinton.
"Now is the time to stand united as Republicans," Priebus said in a speech Wednesday to the party's leadership gathered in Cleveland ahead of next week's national convention. "Now is the time to stop Hillary Clinton and elect Donald Trump."
Priebus pledged to fight Clinton at every turn and highlighted the additional investment the party has made its data operations since the 2012 presidential election.  
"We at the RNC are holding her feet to the fire every day for her above-the-law mentality," he told the RNC's 168 members a few blocks from where Trump is expected to accept the Republican nomination on July 21. "Our communications and research teams are monitoring her every public event and digging through decades of documents to hold her accountable for her track record of cover-ups and dishonesty."
RELATED: How to Get Trump Elected When He's Wrecking Everything You've Built
Clinton, Priebus argued, would keep the nation on the "road of big government failure."
The presumptive Democratic nominee, meanwhile, delivered a speech in Springfield, Illinois, on Wednesday in which she accused Trump of betraying the values of the "party of Lincoln." 
The chairman's remarks in a hotel ballroom came the afternoon before the party's Rules Committee is set to meet Thursday and Friday. Anti-Trump delegates are trying to change party rules ahead of the convention so that delegates who are bound by election results to back Trump for the nomination can "vote their conscience.''
Critics of the effort say that the plan lacks the votes it needs and would thwart the will of about 13.3 million people who backed Trump in the party's primaries and caucuses.
While delegates have no doubt received e-mails from anti-Trump forces telling them no delegates are bound to support a candidate, that's not true, John Ryder, the RNC's general counsel, told the members.
Party rules passed at the 2012 convention require the binding of delegates based on the result of the presidential vote in their states, and delegates can't retroactively change the rules governing their election, Ryder said.
"Those rules are in effect in this convention, and as long as those rules remain the rules, the delegates remain bound,'' he said.