New Jersey's Roadwork Stoppage Pits Christie Against Democratic Ally
By
Senate president is key to increasing New Jersey gasoline tax

In run-up to governor's race, no deal on transportation fund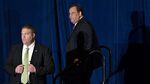 When New Jersey Republican Governor Chris Christie needed Democratic support to cut public-worker benefits, Senate President Steve Sweeney came to his rescue.
Now, as Sweeney considers running for governor and Christie looks at a possible role in the White House, the duo are at an impasse over plans to fund highway and mass-transit projects. Christie, 53, backs a gasoline-tax increase, so long as it's accompanied by a cut in the sales levy. Sweeney, 57, says that maneuver would create a $1.6 billion budget hole.

With no resolution, Christie on July 8 shut down $3.5 billion in transportation projects, idling unionized laborers in a state where roads and rail drive the economy. Though the move won't win Christie many fans in New Jersey, he's got just 18 months left as governor -- if he's not whisked away in January to be vice president for Donald Trump, the presumed Republican nominee.
The consequences are greater for Sweeney, a career ironworker and union vice president, who risks backlash from his own base, the concrete pourers and crane drivers kicked off highway job sites even as they've fattened a political fund to support his possible 2017 run for governor.
"It's not just operating engineers and laborers getting laid off -- ironworkers are getting laid off, too," Sweeney said by telephone on July 8, as the New Jersey affiliate of the Laborers' International Union of North America picketed his district offices in Salem and West Deptford. "My responsibility as a legislator is to do what I think is best. I can't do to the state of New Jersey that kind of budget damage."
No Dough
Earlier this year, Sweeney was on Christie's side during a months-long standoff with Assembly Speaker Vincent Prieto over a financial-rescue plan for Atlantic City, the distressed casino hub. The three reached agreement in May. Focus then turned to the Transportation Trust Fund, which will run out of money for repairs and improvements in August.
Christie, the first Republican elected governor of Democratic-leaning New Jersey in more than a decade, has struggled to contain rising pension and benefit costs and missed revenue targets while vetoing Democratic efforts to increase taxes. The state already faces a budget gap of $1.1 billion over two years, according to the nonpartisan Office of Legislative Services.
Lining Up
With the governor's approval rating at a record low, several Democrats are eyeing his job. Just one, ex-Goldman Sachs Group Inc. executive Phil Murphy, has declared his candidacy and is loaning his campaign $10 million. A potential challenger, Jersey City Mayor Steve Fulop, has support from the Coalition for Progress, a super-PAC that has raised more than $3 million. Assemblyman John Wisniewski and Senator Ray Lesniak also may run.
If Sweeney wants to be governor, he can't alienate what Christie in a news release called the "public- and private-sector union masters" who donate to Democratic campaigns. More than half the $1.5 million raised by New Jerseyans for a Better Tomorrow, a super-PAC aligned with Sweeney, has come from the building trades, according to state Election Law Enforcement Commission records.
"You had organized labor meeting at the statehouse in late June every day with their hard hats, essentially pleading with the legislature to make a deal that this shutdown not happen," said Brigid Harrison, a Montclair State University political science professor. "It continues the narrative that Sweeney has not been able to protect one of his biggest constituencies."
Hot Dogs
Sweeney has tested unions' loyalties with his past Christie alliances.
Ten years ago, union members showed up at the statehouse dressed as hot dogs and holding signs proclaiming "Sweeney is a weenie" after he favored collective-bargaining changes. He sponsored Christie's first-term benefit cuts that helped make the governor a national Republican figure -- and cost Sweeney the election-year endorsement of the New Jersey State AFL-CIO, with more than 1 million members.
On the Transportation Trust Fund matter, Sweeney initially bowed to Christie's insistence that any gas-tax increase be offset with relief elsewhere, and proposed charging 23 cents more per gallon while phasing out the estate tax and raising the earned-income tax credit. The governor said it didn't go far enough, and offered an alternative that included a 1-cent drop in the sales tax, to 6 percent. Though it sailed through the Assembly, Sweeney refused to put it up for a Senate vote.
Trenton Summers
"No one can say anymore that I'm the impediment to a Transportation Trust Fund deal," Christie told reporters in Trenton on June 29. "The speaker and I worked just fine together. We made a proposal together. We worked the Assembly together, and we got it done together. Now, it's time for the Senate president to do the same thing."
Sweeney said he hoped to meet soon with the governor to offer compromises and end the impasse. He declined to discuss details of the proposals.
"I'm not going to throw them out in the press until we've had a chance to talk to him directly," Sweeney said. "I could do that and anger the governor, but it doesn't get us any closer to a solution."
The senator is under pressure from Forward New Jersey, an 80-member coalition that includes lobbyists for Verizon Communications Inc. and the International Brotherhood of Teamsters, which is calling for a special legislative session to resolve the matter. Sweeney says the Senate won't meet before Aug. 1, its next scheduled session.
"If they don't work, we don't work," Rob Lewandowski, a spokesman for Laborers International, with 20,000 New Jersey members, said of the governor and lawmakers. "The logistics of construction, connecting the workforce with tools and supplies -- you can't just turn it all off and pick up again."
Before it's here, it's on the Bloomberg Terminal.
LEARN MORE