Boeing Sees Airline Thirst for New Mid-Range Jetliner Family
By
U.S. planemaker vies with rival Airbus over heir to 757

Development costs seen potentially surpassing $10 billion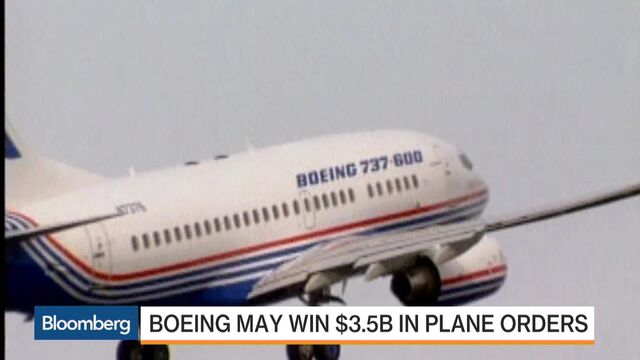 Boeing Co. is seeing strong airline interest in a new mid-range aircraft on its drawing board, bolstering the case for its biggest potential product development of the next 10 years.
No current-generation aircraft are specifically designed for long flights within a region, like the seven-hour trek from Tokyo to Singapore, said Ray Conner, chief executive officer of Boeing's commercial aircraft unit, told reporters at a Sunday briefing ahead of the Farnborough International Airshow in the U.K.
"There is clearly a market desire or need," Conner said.
For more than a decade, Boeing has studied a series of aircraft options for addressing the so-called middle of the market -- a relatively untapped segment where Europe's Airbus Group SE is starting to extend its reach. But after intensive conversations with leading airlines and lessors, the U.S. planemaker sounds increasingly confident that it's close to a solution.
Boeing would probably use carbon-composite wings, new flight systems and other leading-edge technology, while attempting to use a streamlined production system to churn out the aircraft on a scale large enough to cover its costs and keep pricing affordable.
For a piece on Boeing's earlier comments on mid-range jets, click here.
Developing Boeing's first all-new aircraft since the 787 Dreamliner wouldn't be cheap. Costs would easily range from $10 billion to $15 billion, said Kevin Michaels, managing director of Aerodynamic Advisory in Ann Arbor, Michigan.
New Markets
The planemaker sees potential to create a new, larger market beyond the routes flown by the 757, its largest narrow-body jet, which has been out of production for more than a decade. Airlines want planes that seat between 200 and 270 travelers, with the range to fly between 4,500 and 5,100 nautical miles (8,330 kilometers to 9,450 kilometers), Conner said. Airbus has gained sales by pitching its A321neo as the 757's heir.
Boeing's customer discussions mirror the enthusiastic airline response to a survey on the potential mid-range jet released by Bank of America Corp. last week, Conner said. About 89 percent of operators said they were interested in purchasing such an airplane, with 82 percent saying they'd like the aircraft before 2023, Ron Epstein, a Bank of America analyst, said in a July 8 report.
The proposed Boeing plane shares the 787 Dreamliner's potential to open up flights not yet contemplated by airline route planners, John Wojick, the planemaker's senior vice president for sales, said Sunday. "We can change the world, just as we did with the 787."
Farnborough International Airshow 2016: Full Coverage

Before it's here, it's on the Bloomberg Terminal.
LEARN MORE