Abe Set for Upper House Super Majority After Japan Election
by and
Ruling coalition could give Japanese leader two thirds seats

Abe needs super majority to start charter revision process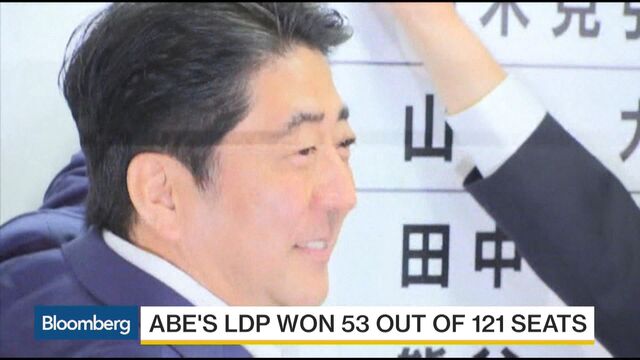 Japanese Prime Minister Shinzo Abe's conservative coalition scored a convincing upper house election win, putting it on course for a two-thirds majority that would allow Abe to press ahead with plans to revise the country's pacifist constitution.
The Liberal Democratic Party secured 56 of the 121 seats in contention, public broadcaster NHK said, while junior coalition partner Komeito had 14. Alongside others who support Abe's view on constitutional revision, plus uncontested seats, the prime minister is set for a super majority, it said.
The results raise questions over whether Abe will switch his focus to altering the postwar U.S.-imposed constitution, a potentially time-consuming process that could expend his political capital and distract the government from its economic program. Abe vowed during the campaign to focus on policies aimed at expanding the size of the economy to 600 trillion yen ($6 trillion) from 500 trillion yen.
"If Prime Minister Abe's coalition scores a hot, two-thirds majority on Sunday, it might be tempted to pass constitutional changes, draining political capital away from urgently needed economic reforms," Frederic Neumann, co-head of Asian economic research at HSBC Holdings in Hong Kong, wrote in an e-mailed note before the election.
Fought Challenge
Tokyo shares headed for their biggest gain in almost three months after the upper house election result and as jobs data eased concerns over the U.S. economy. The Topix index added 2.8 percent to 1,243.93 at 9:43 a.m. in Tokyo.
"Abe said he'll continue to put together his economic policy package, so that optimism is going to continue to support Japanese shares," said Shoji Hirakawa, chief global strategist at Tokai Tokyo Research Center.
Abe's coalition, which previously held 136 of the 242 seats in the chamber, fended off a challenge from opposition parties that had sought to unify the anti-government vote by avoiding running candidates against one another in many districts.
'Accelerate Abenomics'
"I think this means I am being told to accelerate Abenomics, so I want to respond to the expectations of the people," Abe told TBS television after early results were announced.
Gaining a super majority in both houses of parliament is the first requirement for changing the constitution, which hasn't been modified since it was enacted in 1947. A territorial dispute with an increasingly assertive China has added urgency to the idea of a revision to better allow Japan to react to a potential conflict.
For an explainer on Japan's military, click here.
The Buddhist-backed Komeito has said it's open to adding clauses to the charter though it is cautious about making changes to Article 9, which renounces war. Party leader Natsuo Yamaguchi said after the polls closed that his party differed from the LDP on its approach to the constitution. Any proposed shifts would be subject to a national referendum.
"Prime Minister Abe's ultimate goal may be revising the constitution, but if the economy isn't stable, public support won't last long," said Yuichi Kodama, chief economist at Meiji Yasuda Life Insurance Co. in Tokyo. "So, even if he gains the two-thirds majority needed to revise the constitution, Abe won't be able to neglect economic policy." 
Data out Monday showed Japan's core machinery orders fell 11.7 percent on the year in May, against an expected 8.7 percent decline. That suggests capital spending fell again last quarter, said Capital Economics Japan economist Marcel Thieliant, with orders at their weakest level since June 2014.
While Abe has long advocated constitutional change, and has already reinterpreted Article 9 to let Japan's armed forces defend other countries in some circumstances, it is unclear when -- or even if -- he will move forward. In the campaign, he largely avoided the issue, focusing on the economy and the need for continuity amid China's slowing economy and the global fallout over the Brexit vote.
'Debate Thoroughly'
"This election was not fought on whether or not to change the constitution," Abe told TBS. "I think we are expected to debate thoroughly in the constitutional panel which articles should be changed, while understanding spreads among the people."
LDP Vice President Masahiko Komura was reported as saying in a television debate last week there was "zero percent" chance that Article 9 would be revised in the near future.
Opposition lawmakers have accused Abe and the LDP of hiding their real agenda.
"A vote for the LDP is a vote to destroy Article 9," Communist Party leader Kazuo Shii said in a speech last week. "Mr. Abe is trying to create a country that fights wars overseas. His first step was the security legislation and he will try to go further with the second step of changing Article 9 of the constitution. We must not allow this."
There were two setbacks for Abe. Okinawa minister Aiko Shimajiri lost her seat on the tropical island amid anger over the burden of hosting U.S. military bases, following the indictment of a base worker for the rape and murder of a local woman earlier in the year. Justice Minister Mitsuhide Iwaki lost in Fukushima, where the clean-up after the 2011 nuclear disaster has been slow.
Before it's here, it's on the Bloomberg Terminal.
LEARN MORE