Pennsylvania County Trump Dominated in Primary Poses General-Election Challenge
Trump will need heavy turnout in counties like Luzerne to offset Clinton's advantages in Democratic strongholds like Pittsburgh and Philadelphia.
By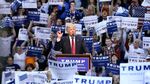 For the setting of their first joint general-election campaign appearance, Hillary Clinton and Joe Biden picked a Pennsylvania locale where each has strong ties.
It's also close to what could be described as Trump Country.
Luzerne County, whose border is less than 10 miles southwest of the Scranton venue where the vice president and presumptive Democratic nominee had been scheduled to appear Friday, gave Donald Trump his second-biggest vote share among 29 states that held primaries through May 3, when he became the presumptive Republican nominee. In the wake of the police shootings Thursday evening in Dallas, Clinton's campaign postponed the event in Scranton and said details on rescheduling would be provided as soon as possible.
The heavily Polish county, one with a hardscrabble history that includes coal mine collapses and floods, is filled with the sort of white, working-class voters drawn to Trump. While primaries and general elections have vastly different voter compositions, Trump's dominance in the area is instructive as he and Clinton compete for a state Democrats have won in each of the past six presidential elections.
"The fact that she is coming here is very telling," said Lynette Villano, the vice chair of the Luzerne County GOP and a Trump delegate to this month's Republican National Convention. "If she had this area wrapped up, she wouldn't be coming here."
Other political observers in the area, including some Republicans, are skeptical Trump can win Luzerne County in November, despite his strong showing there in the primary. They're even more skeptical that he can win Pennsylvania.
"I've heard the state referred to as fool's gold for the Republican Party, but it could be different this year," said Bill Urbanski, the GOP chairman in Luzerne County.
In an effort to defend the presumptive Democratic nominee's political flank, Clinton and Biden will rally supporters in what is a homecoming of sorts for both of them. The vice president was born in Scranton and Clinton's late father, Hugh Rodham, grew up there.
President Barack Obama won Scranton's Lackawanna County in 2012, beating Republican Mitt Romney 63.1 percent to 35.8 percent. Things were closer in the slightly larger Luzerne County, where Obama won with 51.7 percent.

Neither party has paid too much attention to Pennsylvania in recent presidential elections. The state, despite its size, didn't even make it into the top 10 for advertising spending in the 2012 White House campaign.
There's greater intensity in Pennsylvania in 2016 because Trump is expected to focus heavily on Rust Belt states. That's partly because he faces stronger headwinds in other swing states that have larger populations of Hispanics, many of whom he's alienated.
If the real-estate developer and TV personality carries Pennsylvania, Ohio, Michigan, and Wisconsin -- and all other states follow their 2012 vote -- he would win the presidency with exactly the 270 electoral votes needed.
In Pennsylvania, Trump will need heavy turnout in counties like Luzerne to offset Clinton's advantages in Democratic strongholds like Pittsburgh and Philadelphia.
Luzerne awarded Trump 77.4 percent of the vote in the April 26 primary. The only county that gave him a larger share among those that held contests through May 3 was the one that encompasses Staten Island in Trump's home state of New York, a Bloomberg Politics analysis of primary data shows.
"This area fits the profile of people who typically vote for Trump," said Thomas Baldino, a political science professor at Wilkes University.

That doesn't mean Baldino thinks Trump will win Luzerne County, or Pennsylvania's 20 electoral votes. "It's possible that Donald Trump could win this county, but I think this county is more likely to go for the Democrat than the Republican," he said.
With the city of Wilkes-Barre as its biggest community, Luzerne is home to more than 318,000 residents. The county is 84.1 percent non-Hispanic white, U.S. Census data shows, compared to a national average of 62.8 percent. Its median household income in 2014 was $45,118, well below the national midpoint of $53,657.
The county's 6.4 percent unemployment rate is high enough to rank in the top half of Pennsylvania counties for joblessness, while also being above the statewide average of 5.5 percent and the national average of 4.7 percent in May.
Long depressed from an exodus of coal and textile jobs, the county's population is older than average for Pennsylvania or the nation.
"For a very long time, there have been a lot of people who have felt left out by the economy and economic gains that have been made on the national level," said Andrew Chew, a research analyst at The Institute for Public Policy & Economic Development at Wilkes University. "Educational attainment in the region is also a little lower than the state and national average, and that fits in with Donald Trump's strength with blue-collar workers and this is absolutely a blue-collar area."
Urbanski, who backed Ohio Governor John Kasich in the primary, said Trump's Pennsylvania prospects are threatened by the fact that his campaign hasn't done a good job of contacting local party leaders to get grassroots organizing started.
"Sadly, what we are seeing is that Trump hasn't reached out to us," he said. "He doesn't have much of statewide staff in place and is mostly leaning on the state party."