Innovation
Ultrasonic X-rays
Nevada startup S-Ray develops a radiation-free alternative to the dental X-ray.
By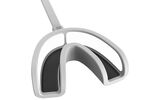 Innovator: Steve Baird
Age: 60
Chief executive officer of S-Ray, a Reno, Nev.-based startup with four full-time employees
 
Form and function
ClearView Scan, a combo of ultrasound hardware and 3D-imaging software, is meant to take the place of dental X-rays. It emits no harmful radiation and, its inventors say, makes more precise measurements than X-rays do.
 
Origin
Baird formed S-Ray in 2008 to develop the product after Oregon dentist Ken Johnson brought him a prototype based on the ultrasound devices used to examine lumber.
 
Funding
Some 200 individuals, including Johnson and about 100 other dentists, have invested about $10 million in S-Ray.
 
1. Scan
A patient bites a mouthpiece connected by USB cable to a dentist's laptop. The dentist uses ultrasound transducers in the mouthpiece to scan the patient's teeth in 40 seconds.
 
2. Image
S-Ray's cloud service allows dentists to receive instant 3D images. They can then check for cavities and cracks, diagnose gum disease, and measure for braces, dentures, or implants.

 
 
Hardware
Baird says a ClearView Scan reusable mouthpiece will cost $9,850.
 
Software
Dentists pay $6 per image, less than the cost of an X-ray.
 
Next Steps
"This is the kind of disruptive technology that may really change the dental world," says Joerd van der Meer, a dentist and professor at the University of Groningen Medical Centre in the Netherlands. Baird says S-Ray will release ClearView Scan by next year, pending U.S. Food and Drug Administration approval, and that he's also working on a countertop product that can scan dental impressions.
Before it's here, it's on the Bloomberg Terminal.
LEARN MORE