Texas Judge Blocks Obama's Union-Buster Disclosure Rule
Employers can keep anti-union contracts under wraps, for now.
By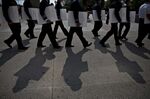 More than 70 percent of companies facing union-organizing campaigns bring in consultants to help them figure out how to respond, according to the U.S. Department of Labor. The consultants craft talking points for managers to use in discussions with workers. Typically, the workers aren't told that their supervisors have been professionally coached.
In March the Obama administration moved to change that with regulations requiring employers to disclose such consulting contracts. Labor Secretary Thomas Perez says the change would help level the playing field for unions, which are legally required to report their organizing expenditures. In a statement at the time, Perez said, "Workers should know who is behind an anti-union message. It's a matter of basic fairness."
Business groups have filed three lawsuits to block the rule. They argue that it would infringe on their First Amendment rights by targeting anti-union speech and association. On June 27 they scored a victory: U.S. District Judge Sam Cummings, a Reagan appointee hearing a case filed in Texas that's been joined by 10 states, issued a preliminary injunction blocking the rule from going into effect nationwide. He wrote it posed "a substantial risk that attorneys will cease providing certain advice, including some legal advice, and that employers would cease to seek it."
"The feeling is that the department is trying to set up a situation where all employers must simply disclose everything all the time, and that's not helpful to anybody," says Patrick Forrest, vice president for the National Association of Manufacturers, which sued in Arkansas to block the administration rule. "Disclosure is, in our opinion, a ruse for a larger attempt to silence employers and to tip the scales in favor of unionization."
Under existing law, companies are free to fight unionization by persuasion. A 1959 law requires employers to disclose payments to consultants who meet directly with rank-and-file employees to dissuade them from voting in favor of bringing in a union. The law didn't cover consultants working in a purely advisory role; the Labor Department contends that, because the exception has been read too broadly, most consultant contracts aren't disclosed.
Under Obama's new rule, the advice exception would be read more narrowly. Companies would have to report when consultants train or direct their managers on how to discourage unionization, or prepare customized materials for them to use in meetings with employees. "It's a whole psychological science that the consultants have developed that includes repetition and identifying individual employees' vulnerabilities, what they worry about most, and then hammering away at that particular point about the supposed danger of a union coming in," says Cornell labor law professor Lance Compa. "Making these kinds of implicit threats really has an effect on shaking people's belief or confidence that the union can help them improve things."
Employers say the new rule goes too far in unions' favor. "Burdening speech that is disfavored by government officials under the guise of 'transparency' is an old ruse," the Worklaw Network, a group that sued in Minnesota, argued in its filing. The group leaned on a 1958 U.S. Supreme Court ruling that found unconstitutional an attempt by the state of Alabama to force the local NAACP to disclose its members.
The claim that anti-union employers are in a position remotely analogous to NAACP members in Jim Crow Alabama has drawn criticism. "The actual purpose of the disclosure was to intimidate people into not joining the NAACP by threatening them with physical violence," says Seattle University law professor Charlotte Garden. "In contrast, here the employers and others who are objecting to the rule are saying, 'Well, we don't want to be criticized.' "
The Obama administration has until late August to appeal the injunction. The Labor Department declined to comment, citing ongoing litigation. Union leaders have made clear they want to see the regulations go into force so workers can see for themselves how their employers react to organizing efforts. "People will say, 'If you're sincere, why are you spending all of this money? Why are you using this paid gun?' " says AFL-CIO President Richard Trumka. "It'll expose a lot."
The bottom line: Employers and anti-union consultants say an Obama administration rule steps on their First Amendment rights.
Before it's here, it's on the Bloomberg Terminal.
LEARN MORE