Republican Show of Unity With Trump Punctured by Some Discord
By and
Lawmakers say presumptive nominee welcomed warmly by most

Trump had sharp exchanges with some skeptical senators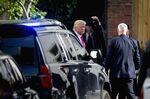 Republicans in Congress emerged from private meetings with Donald Trump on Thursday trying to project unity and enthusiasm ahead of the November election, but there were also signs of continuing discord over the party's controversial nominee.
Trump had sharp exchanges with two Republican senators who have declined to endorse him, Arizona's Jeff Flake and Nebraska's Ben Sasse, according to several senators in the meeting. A number of lawmakers didn't attend. Trump also had harsh words for another Republican holdout, Mark Kirk of Illinois, who skipped the meeting and is facing a tough re-election.
"I guess he lit me up," Kirk said later Thursday.
Still, most party members described the sessions as positive and said they are helping prepare the party to take on Hillary Clinton.
"I was one of Trump's most vociferous opponents and I'm now one of his most committed supporters," Representative Trent Franks of Arizona said after the meeting.
Second-ranking Senate Republican John Cornyn said that during the second meeting, "people were candid about some of the reasons for concern in terms of tone and style, but I think Mr. Trump makes an interesting point that he generate a lot of enthusiasm and tapped into something that no Republican nominee for president has done before."
"I think there were some encouraging signs that he's learning from his experience," Cornyn of Texas said.
Trump later said the meetings were "great," tweeting that "these are people who love our country!"
Trump and Speaker Paul Ryan joked about their differences during an earlier meeting with House Republicans, said Representative Scott DesJarlais of Tennessee.
"He basically said, 'I am not going to let you down,'" said Representative Lou Barletta of Pennsylvania.
Still, Representative Reid Ribble of Wisconsin, who isn't backing Trump, said the meeting didn't change his position and that the response from fellow Republicans was "muted." He said about 200 House Republicans attended.
Sasse "went to today's meeting ready to listen," his spokesman, James Wegmann, said in an e-mail.
'Dumpster Fire'
"Senator Sasse introduced himself to Mr. Trump and the two had a gracious exchange," Wegmann said. "Mr. Sasse continues to believe that our country is in a bad place and, with these two candidates, this election remains a dumpster fire. Nothing has changed."
Pat Toomey, another senator who has yet to endorse Trump, said the meeting didn't help him make up his mind. "I'm still waiting and seeing," said the Pennsylvania Republican, who is also facing a tough re-election.
The meetings near the Capitol were Trump's first encounters with the full House Republican and Senate conferences. Trump is hoping to unify the party ahead of its convention in Cleveland and working to choose a running mate from a shrinking field of experienced Republicans willing to join the ticket.
Forty-one of the 54 Republican senators attended the second meeting, said Don Stewart, spokesman for Majority Leader Mitch McConnell of Kentucky. McConnell called the session a "good meeting, good discussion, very good attendance."
"It wasn't a deposition, it was more like a family reunion where you don't know all your cousins," said Representative Joe Barton of Texas, chairman of the conservative Republican Study Committee. "We need him to win."
Senator Orrin Hatch of Utah said in a statement that he is encouraging Trump to make "critical adjustments to emerge as a successful general election candidate."
"Trump needs to offer an inclusive and attractive vision of how best to bring about broadly shared prosperity at home and security in a dangerous world," Hatch said. "I hope he will focus less on personality and divisive rhetoric."
'Long-Standing Appointment'
One lawmaker who said he wasn't planning to attend was House Energy and Commerce Chairman Fred Upton of Michigan, who a day earlier cited a "long-standing appointment."
Ryan, who waited several weeks before deciding to endorse Trump, has acknowledged that the real-estate mogul "clearly says and does things I don't agree with."
This week alone, Ryan has been prompted to publicly respond to Trump's praise for Saddam Hussein by clarifying the Iraqi strongman was "evil," and also said the New York billionaire's campaign must "clean up" its social media operation on the heels of a tweet with an apparently anti-Semitic image.
Trump drew criticism this week for saying about Saddam: "You know what he did well? He killed terrorists. He did that so good."
Blaming Media
Trump told lawmakers Thursday that the media twisted what he said about Saddam, DesJarlais said. Representative Ralph Abraham of Louisiana said, "He does know Saddam was a terrible man, he stated that."
The toughest question during the House session, according to Representative Bill Flores of Texas, came from Nevada's Cresent Hardy, who asked how Trump was going to do better with minority voters, including Hispanics, in swing states like his.
"I got it. I understand," Flores said Trump responded. Trump also said he will keep focused on the race and that polls show he is doing well in Hardy's state.
Trump did help win over a few lawmakers with his visit. 
'Going to Beat' Clinton
"I thought it was a great meeting. It was fantastic," said Representative Tim Huelskamp of Kansas, who said it was his first time hearing Trump in person. "I walked out of there saying this guy's going to beat Hillary Clinton. That's the beginning of the end of Hillary."
Ryan introduced the party's presumptive nominee.
"Speaker Ryan talked about how important it was to elect Donald Trump our next president," said Representative Chris Collins of New York. "Heads were bobbing up and down" in agreement, he added.
House Minority Leader Nancy Pelosi, a California Democrat, told reporters, "Republicans made clear what we've been saying all along: There's not a dime's bit of difference" between Trump and House Republicans.
Before it's here, it's on the Bloomberg Terminal.
LEARN MORE