John Malone Sees Viacom Opportunity, Says Stock Undervalued
by
Viacom 'very important part of our industry,' Malone says

Moonves would do a 'terrific job' as CEO of recombined company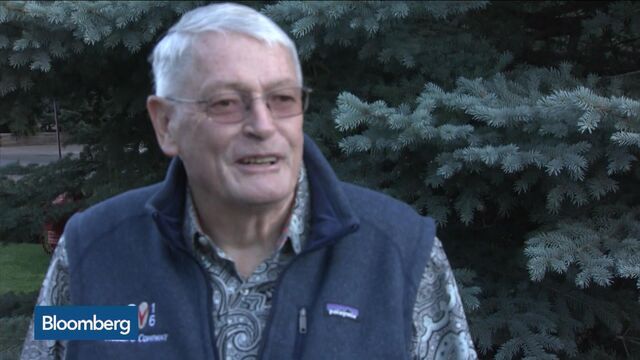 Viacom Inc. is undervalued because of the turmoil over the battle for control of the company, said billionaire John Malone, who's been piling up media acquisitions.
Shares of the owner of MTV and Comedy Central have gained 4.8 percent this year through midday trading, trailing the 6.8 percent gain of the Standard & Poor's 500 Media Industry Group Index. Investors have been stuck in the middle as Vice Chairman Shari Redstone tussles with Chief Executive Officer Philippe Dauman over the company's future.
"They've got some great assets and, right at the moment because of the turmoil, they're substantially undervalued," Malone, 75, said after arriving in Sun Valley, where Allen & Co. hosts an annual conference of media and technology moguls.
Class B shares of Viacom rose to $43.12 at 12:40 p.m. in New York. The stock had fallen 35 percent in the past year through Wednesday.

Malone is pursuing tie-ups in a challenging entertainment landscape marked by sluggish advertising sales and shrinking audiences. Last week, Lions Gate Entertainment Corp. agreed to buy Malone's Starz in deal valued at $4.4 billion. The billionaire said he wants to give Starz and Lions Gate "the opportunity to be bigger, more aggressive."
Malone hold stakes in both companies, as well as Discovery Communications Inc., and analysts say he likely has several other targets in his sights, including AMC Networks Inc., Scripps Networks Interactive Inc. and Viacom, which could end up for sale depending on the outcome of a legal battle pitting Dauman against controlling shareholder Sumner Redstone, 93, and his daughter Shari.
"Sumner has been a long-term friend and sometimes partner and sometimes frenemy, and you hate to see the stress in a family situation," Malone said. "I certainly hope it all works to everybody's benefit. They've created some great assets over the years and are a very important part of our industry."
Dauman, who isn't attending the Allen & Co. conference, is locked in a legal battle with Shari Redstone over whether her father is still capable of making major strategic decisions for the company. As Dauman fights to keep his job, interest in recombining Viacom with CBS -- another Redstone-controlled company -- has been building among the investment community. CBS, owner of the most-watched U.S. TV network, has outperformed Viacom in recent years, and a merger could put everything under Les Moonves, that company's CEO.
Viacom, in a statement, said Dauman had planned to attend the Allen & Co. conference but is "attending to pressing business matters."
"Les would do a terrific job if they wanted to go that way because he's an excellent operator, but I have no idea what Shari has in mind as a strategic direction," Malone said.
The key for Malone would be to buy the 40 million super-voting shares of Viacom held at National Amusements Inc., Redstone's theater chain, according to Robert Routh, an analyst at FBN Securities Inc.
"The market value of this is not so big as to make any such deal all that difficult," Routh said. "The combined Lions Gate-Starz would be the logical buyer of such a position, but of course Malone could also buy it were it to be made available through one or a combination of other vehicles."
Malone has a reputation for engineering complex and lucrative financial arrangements. Since Malone split off Liberty Media Corp. from Liberty Interactive Corp. in 2011, the companies have both gone through a series of moves that carved out the QVC home-shopping business, as well as holdings in Starz and TripAdvisor. The media magnate has also used tracking stocks to push for takeovers, such as the Liberty Broadband tracking stock created to fund investments by Charter Communications Inc. Charter has since bought Time Warner Cable Inc. and Bright House Networks LLC, respectively.
U.K. 'Going to be Fine'
As Europe grapples with the fallout of the U.K.'s vote to leave the European Union, Malone said the region is "going to be fine." Malone is one of the largest shareholders of Liberty Global Plc, the continent's largest cable TV company.
"The reaction has been way overblown," Malone said. "This will create investment opportunity in the U.K. and I think also a fair chance that they work out their EU issues." He added: "Rational people will ultimately figure this out."
One concern is that the U.K. will start competing with Ireland as the "most business-friendly player" as the pound loses value. Malone said he was a big investor in Ireland.
Before it's here, it's on the Bloomberg Terminal.
LEARN MORE