Attack Lines
Trump: 'Stupidity Is Not a Reason' Not to Charge Clinton
At a North Carolina rally Tuesday, the presumptive Republican nominee kept the pressure on.
By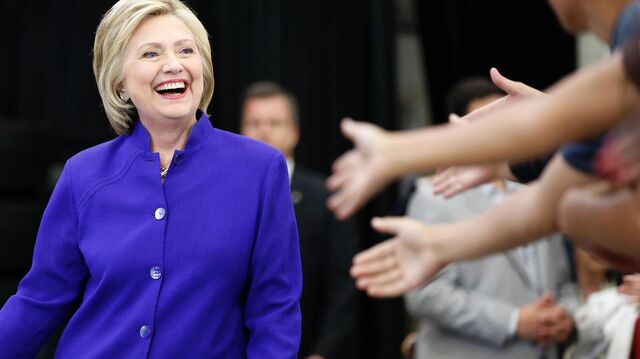 Donald Trump seized on the news that FBI Director James Comey wouldn't recommend criminal charges be filed against Hillary Clinton as proof of a "rigged" judicial system. 
"Our enemies may have a blackmail file on crooked Hillary and this alone means she should not be allowed to serve as president of the United States," Trump said, reading from prepared remarks during an often freewheeling campaign rally Tuesday night in North Carolina, a swing state.
Hours earlier, Comey said he thought no reasonable prosecutor would bring charges against Clinton over her use of private e-mail while secretary of state. But Comey also described her handling of official communications as "extremely careless," saying she could have exposed classified information to hackers.
"'Extremely careless,' that's a tremendous word," Trump said Tuesday night. "We're talking about the lifeblood of our country. The safety of our people."
During Trump's hour-and-15-minute mix of prepared notes and ad-libbing, he called Clinton's judgment "horrible," and said "stupidity is not a reason" not to charge her. 
"And I don't happen to believe that it was stupidity," he said.
Trump said Clinton went to "extraordinary lengths to carry out an Enron-style purge of her e-mails," but personally thinks technology specialists could still recover them.
Both Trump and Clinton were competing Tuesday in North Carolina, a state President Barack Obama won by 0.3 percentage points in 2008 and lost in 2012 by 2 points. 
Clinton and Obama drew about 9,000 people to a 3 p.m. rally in Charlotte, officials said. Trump's 7 p.m. event, about three hours away in Raleigh, attracted about 3,000 people, with a full house inside the 2,339-capacity auditorium and a few hundred more in overflow areas denied access by the fire marshal, Jim Lavery, the facility's general manager, said.
While neither Clinton nor Obama mentioned Comey's news conference, her campaign reacted earlier with a statement that said "this matter is now resolved." 
Trump accused Clinton of trying to persuade Attorney General Loretta Lynch, who will make the final decision on whether to bring charges, by saying she'd consider letting Lynch stay on in the job. 
"How you can you say that? It's a bribe!" Trump thundered. "It's a disgrace. … She is laughing at the stupidity of our system and so is her husband, Bill. Laughing." 
Trump said even though Clinton posed in front of the seal of the president by riding to North Carolina on Air Force One with Obama, "she doesn't look presidential to me, folks. I can tell you that." 
He said he doesn't think Clinton has the temperament to be president.
"She is a weak, weak person," he said. "She doesn't have the strength."
Trump said he watched Clinton's rally. "How boring was that speech? Do we like Trump better?"
The audience roared their agreement. The crowd later began chanting "Tell the truth!" 
A Reuters/Ipsos poll released Tuesday showed Clinton is 13 percentage points ahead of Trump with likely voters nationwide. The survey was conducted before the FBI recommendation.
Before it's here, it's on the Bloomberg Terminal.
LEARN MORE