Ryan Calls for Barring Clinton From Classified Briefings
By
House speaker cites FBI's findings on nominee's e-mail use

FBI Director Comey, Attorney General Lynch to testify soon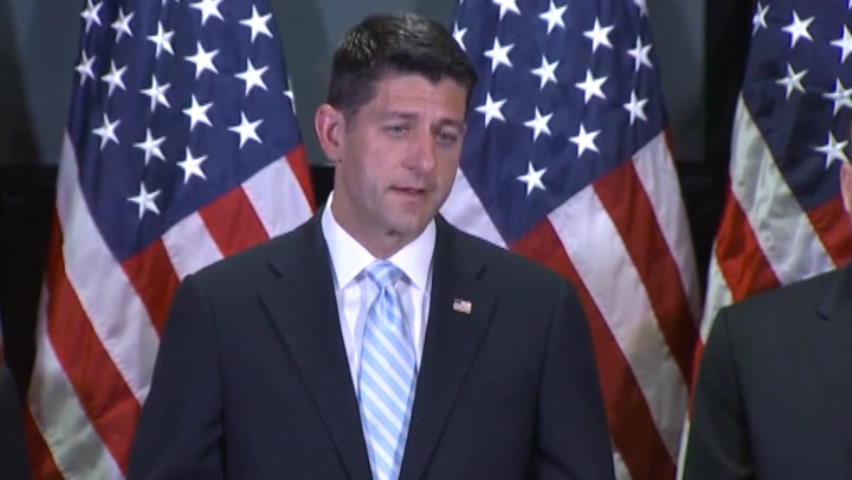 House Speaker Paul Ryan called for denying Hillary Clinton access to classified information during the presidential campaign, citing the FBI director's findings that Clinton was "extremely careless" in handling sensitive communications.
Ryan's call came as FBI Director James Comey is set to appear before a House committee on Thursday to explain his decision not to recommend criminal charges against Clinton or her associates.
Ryan told reporters Wednesday that he wants Director of National Intelligence James Clapper to bar Clinton from receiving the customary briefings on national security issues provided to presidential candidates.
"After the convention, you get the full, deep classified information," Ryan said, noting Comey had said that short of prosecution some sort of administrative action might be in order. "I think the DNI, Clapper, should deny Hillary Clinton access to classified information during this campaign given how she so recklessly handled classified information."
Republican Senator John Barrasso of Wyoming said Wednesday that Senate Republicans will introduce a bill to deny security clearances to everyone involved with the Clinton e-mail server, including the former secretary of state herself.
Truman's Decision
The intelligence community has routinely briefed presidential candidates since the 1950s, a process started by President Harry Truman, who took office suddenly after the death of Franklin Roosevelt, to make sure the eventual president-elect would be better prepared to assume office.
"His determination that no future president should take office as uninformed as he had been is partly responsible for the intelligence briefing offered to all presidential candidates since 1952," noted an introduction to an unclassified CIA history on briefings of presidential candidates.
White House Press Secretary Josh Earnest said on May 5 that Clapper's office is in charge of deciding how to proceed with the briefings for the candidates. 
Refusing to offer an intelligence briefing would be "unprecedented in the modern era," said David Priess, author of "The President's Book of Secrets," a study of presidential intelligence briefings. "However, these are unprecedented circumstances," he added, saying there haven't been previous cases of nominees mishandling classified information. The briefings, Priess said, aren't codified into law.
Ryan said Comey "shredded" Clinton's claims about the e-mail issue. "We have seen nothing but stonewalling and dishonesty from Secretary Clinton on this issue, and that means there are a lot more questions that need to be answered," he said.
He added that Congress would explore whether it could block classified briefings if the administration won't, and wouldn't rule out calling for a special prosecutor when asked.
"We're not going to foreclose any option," Ryan said.
Separately, some U.S. officials and congressional Democrats have expressed concerns about the prospect of Donald Trump, known for his off-the-cuff remarks and constant tweets, receiving the same classified briefings when he becomes the Republican nominee.
"My worry about Donald Trump is that he has absolutely no filter. I'm not suggesting he would intentionally disclose classified information, but I just don't think we can trust that he would keep his mouth shut," Connecticut Democratic Senator Chris Murphy said Wednesday. 
Pair of Hearings
Republicans continue to express frustration that Comey didn't recommend criminal charges against Clinton, and plan to press the FBI director and others about their findings.
House Oversight Chairman Jason Chaffetz announced that Comey would testify before his panel on Thursday, along with the inspectors general of the State Department and the intelligence community, about the investigation into Clinton's e-mail use.
"The FBI's recommendation is surprising and confusing," Chaffetz of Utah said in a statement. "Congress and the American people have a right to understand the depth and breadth of the FBI's investigation."
Democrats quickly blasted the "emergency" hearing as a political gambit.
"Republican after Republican praised Director Comey's impeccable record of independence -- right up until the moment he issued his conclusion," Elijah Cummings of Maryland, the ranking member on the Oversight panel, said Wednesday in a statement. "Since Republicans disagree with his recommendation, they are doing what they always do -- using taxpayer funds to continue 'investigating' their baseless claims in an effort to bring down Secretary Clinton's poll numbers."
Separately, Judiciary Chairman Bob Goodlatte of Virginia said that Attorney General Loretta Lynch would appear next week, on July 12, for a previously scheduled hearing that will include questions about the FBI investigation, as well as Lynch's controversial impromptu meeting with former President Bill Clinton last week.
"The recent announcement by FBI Director Comey that he does not recommend criminal charges be brought against Hillary Clinton for her mishandling of classified information raises serious concerns," Goodlatte said in a statement. "It is uniquely troubling in light of Attorney General Lynch's secret meeting with former President Bill Clinton. No one is above the law and the American people need to know that federal law enforcement is taking this misconduct seriously."
Before it's here, it's on the Bloomberg Terminal.
LEARN MORE