Source: DigitalGlobe via Getty Images
The South China Sea hosts $5 trillion in trade a year and some of the world's most pitched territorial disputes. China has used a massive dredging effort to expand the size of tiny spits of land in the Spratly Island chain and to strengthen its claim to more than 80 percent of the area. That has strained ties with other claimant states as well as the U.S., which has been the dominant military presence in the region for decades. China made clear its push would continue even if the Philippines won a challenge before the Permanent Court of Arbitration in The Hague. The court ruled for the Philippines on July 12.
1. What's the Philippines' case against China?
As the Philippines asked, the arbitration tribunal rejected China's so-called historic rights assertion to a vague line -- the nine-dash line -- on a 1947 map that extends about 1,120 miles (1,800 kilometers) south of Hainan Island. That territory overlaps claims of Taiwan, Vietnam, the Philippines, Malaysia and Brunei. The Philippines brought the case after China seized a triangle of reef and rocks known as Scarborough Shoal in 2012.
2. What does China say?
China refused to participate in the legal proceedings beyond submitting a paper outlining its position. It says the international tribunal has no jurisdiction over sovereignty disputes and that disagreements should be dealt with via direct talks between claimants. 

3. Why does this matter?
The dispute sits at the core of a struggle between the U.S., the long-time guarantor of the freedom of navigation in the waters, and a rising China bent on becoming a maritime power. Though the U.S. takes no view on the merits of the South China Sea claims, it's concerned that China will use the reclaimed reefs to establish military bases. American ships and aircraft have approached some of the reefs, infuriating the Chinese. They, in turn, dispatched fighters and warships to warn off a U.S. ship in May. The same month, Group of Seven leaders expressed concern about instability in the South China Sea.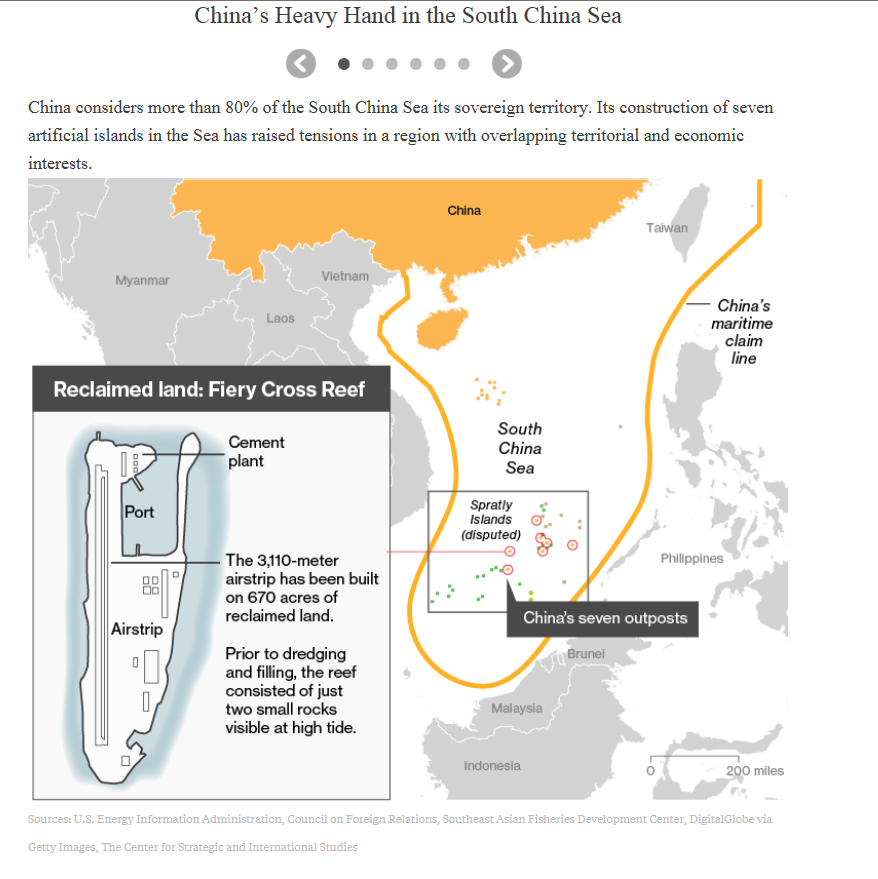 4. What's likely to happen?
Since the tribunal has no power to enforce its rulings, much depends on how China chooses to respond. After the ruling, China warned it may still seek to set up an air defense identification zone over disputed waters. And China and Taiwan don't agree on much, but on the South China Sea they are on the same side. Taiwan rejected the ruling and sent a naval frigate to patrol the disputed waters. 
The Reference Shelf
Before it's here, it's on the Bloomberg Terminal.
LEARN MORE