QuickTake Q&A: Hillary Clinton's Use of a Private E-Mail System
By and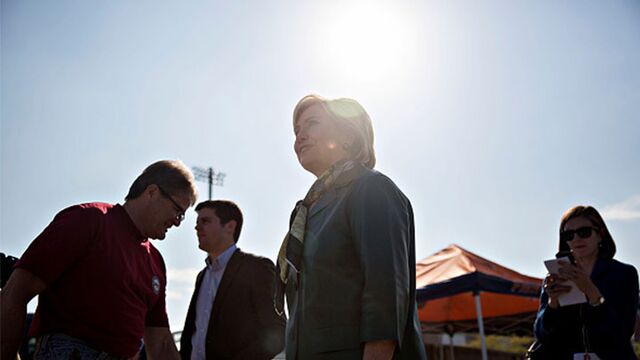 Hillary Clinton, the Democratic nominee for president, chose to use a private e-mail account and servers in her last job, as U.S. secretary of state. Through that personal account, hdr22@clintonemail.com, she sent or received about 60,000 messages from 2009 to 2013, roughly half of them work-related. The FBI investigated whether classified information was included in those emails. After the FBI recommended no charges, the case was closed. For months, Republican blueprints to defeat Clinton had included the hope and belief that she'd be indicted. Now that that's off the table, Republicans continue to question what was in the roughly 32,000 messages that Clinton deemed personal and deleted before turning her e-mail over to the State Department. The FBI has recovered about half of those.
1. What did investigators conclude?
FBI Director James Comey said that while Clinton and her staff were "extremely careless" in their use of e-mail, and that "there is evidence of potential violations regarding the handling of classified information," his office determined that "no reasonable prosecutor" would file criminal charges. Asked whether Clinton had been truthful in her explanations to the public, Comey said, "That's a question I'm not qualified to answer." The State Department's inspector general found Clinton's use of private e-mail violated rules, but that "longstanding" problems with the department's electronic communications began before Clinton took office.
2. How did we get here?
Clinton's account came to light during the probes into the 2012 attacks in Benghazi, Libya. In March 2015, a New York Times report raised questions about whether her use of it violated federal rules governing retention of and access to official records. Some of the e-mails were deemed classified after Clinton left office. In October 2015, Clinton testified during an 11-hour hearing before a House committee. "I don't think anything inappropriate was done," Clinton said of her e-mail practices in an April 3 interview on NBC's "Meet the Press."
3. What's next?
Though cleared legally, Clinton still must answer politically for her decision-making. Donald Trump, the Republican presidential nominee, has said that Clinton is guilty at least of "stupidity and bad judgment" and called the justice system "rigged." State, which had suspended action during the criminal probe, reopened its internal review of whether Clinton or her aides mishandled information. Congress asked for -- and received -- some documents from the FBI's investigation.
4. What do polls say?
A Washington Post-ABC News poll released July 11 found that 56 percent of Americans disapproved of the decision not to charge Clinton. Another Washington Post-ABC News poll, released Aug. 7, found that 59 percent of Americans see Clinton as not honest and trustworthy -- though even more, 62 percent, said that of Trump.
The Reference Shelf
A Bloomberg story on 22 e-mails withheld from release because they included top-secret information.
A Bloomberg QuickTake on the Benghazi affair.
A Bloomberg story on the "(c)" marks on some of the e-mails.
Before it's here, it's on the Bloomberg Terminal.
LEARN MORE