FBI Findings Undercut Hillary Clinton's Claims on E-Mail System
By , , and
Clinton should have known e-mail system was unsafe, Comey says

Hostile powers may have been able to hack e-mails, he says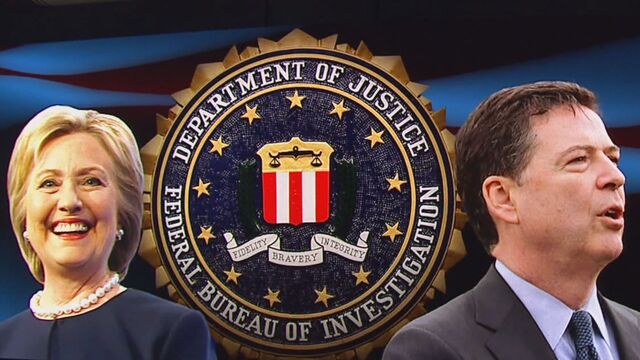 The FBI's findings in its probe of Hillary Clinton's e-mail practices as secretary of state undermine her explanations for how she handled sensitive information on point after point, creating an enduring political liability for the Democratic presidential contender.
While stopping short of recommending criminal charges, FBI Director James Comey sharply criticized Clinton and her former State Department aides on Tuesday as "extremely careless" in using private e-mail to discuss sensitive information. He said the practice could have exposed highly classified information to hacking by hostile powers.
"Any reasonable person in Secretary Clinton's position, or in the position of those government employees with whom she was corresponding about these matters, should have known that an unclassified system" was no place for e-mails discussing sensitive matters, Comey said in announcing the bureau's conclusions three days after investigators interviewed Clinton.
While Comey said federal prosecutors still must act on his recommendations, he said "our judgment is that no reasonable prosecutor would bring such a case" because there was no evidence that Clinton intended to mishandle classified information, expose a vast quantity of material or obstruct justice.
Claiming Vindication
Clinton's campaign portrayed Comey's recommendation as vindication. "We are pleased that the career officials handling this case have determined that no further action by the department is appropriate," spokesman Brian Fallon said in an e-mailed statement. "As the secretary has long said, it was a mistake to use her personal e-mail, and she would not do it again."
Yet the statement Comey read on-camera Tuesday, combined with a May report by the State Department's inspector general, amounted to a sharp rebuttal of Clinton's contentions ever since the issue surfaced.
After the existence of Clinton's private e-mail system was disclosed by the Associated Press and New York Times in March 2015, she and her staff maintained that they followed appropriate practices in dealing with classified materials. In March of this year, Clinton said she didn't have to ask permission from anyone to use the server because "it was permitted."
Not true, according to the inspector general's report. The State Department inquiry found that Clinton's use of the e-mail system should have been vetted by the department's bureaus for diplomatic security and information resource management -- and that they wouldn't have approved.
Clinton's campaign also said last July that "any released e-mails deemed classified by the administration have been done so after the fact, and not at the time they were transmitted." On Aug. 26 of last year, Clinton added nuance to her campaign's explanation, saying she was "confident" investigators would find she never sent or received e-mails marked classified.
Classified Markings
Comey dispensed with that argument. While many e-mails were classified after they were sent, some "bore markings that indicated the presence of classified information" and at least 110 contained classified information at the time they were sent. Eight e-mail chains contained top secret information. In addition, at least three e-mails not provided to the State Department by Clinton's aides but discovered by the FBI also contained secret information.
Moreover, Comey said Clinton should have known the information in some e-mails was classified regardless of how she received them or what labels they had.
"Even if information is not marked 'classified' in an e-mail, participants who know or should know that the subject matter is classified are still obligated to protect it," Comey said.
Adding weight to the FBI report was a finding that her use of the system during her frequent travels abroad may have put her e-mail account at an extra risk of hacking. Comey said hackers managed to gain access to the private e-mail accounts of people Clinton was in "regular contact" with.
Clinton "used her personal e-mail extensively while outside the United States, including sending and receiving work-related e-mails in the territory of sophisticated adversaries," Comey said. "Given that combination of factors, we assess it is possible that hostile actors gained access to Secretary Clinton's personal e-mail account."
Republican Criticism
While Comey, a Republican, has long been praised by Republican lawmakers, his decision not to recommend prosecution fueled anger and disbelief among Clinton's opponents -- and that, too, will help keep the issue alive.
"Clinton misled the American people when she was confronted with her criminal actions," House Speaker Paul Ryan said.
Presumptive Republican presidential nominee Donald Trump tweeted: "FBI director said Crooked Hillary compromised our national security. No charges. Wow! #RiggedSystem."
Trump had already ramped up that line of attack after reports surfaced last week that former President Bill Clinton met privately with Attorney General Loretta Lynch aboard a plane in Phoenix. Both Clinton and Lynch say the FBI case wasn't raised, and Lynch responded to the uproar by saying "I fully expect to accept" the recommendation of career prosecutors at the Justice Department.
That recommendation is yet to come.
Before it's here, it's on the Bloomberg Terminal.
LEARN MORE