Life After Diamond: Barclays Closes Door on Years of Libor Pain
by and
Staley seeks to convince investors that worst is over

Bank had $27 billion of profit wiped out by misconduct fines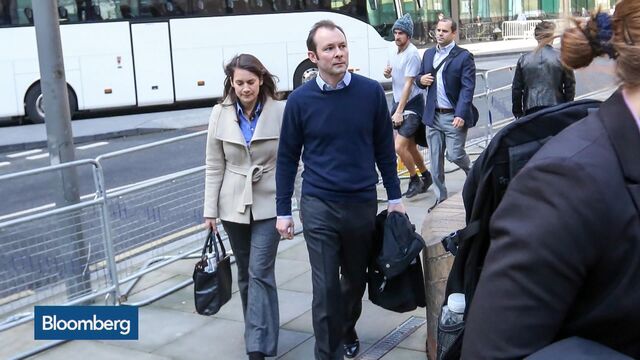 Bob Diamond poured himself a glass of water and fixed a smile. It was Independence Day 2012 in the U.S., but the Massachusetts native was sitting alone in London in the middle of a long desk in a sober navy suit, hands clasped in front of him.
"Mr. Diamond, could you remind me of the three founding principles of the Quakers who set up Barclays?" asked John Mann, a Labour Party member of Parliament.
A week earlier, Barclays Plc had become the first bank to settle with regulators for rigging the London interbank offered rate, or Libor, paying 290 million pounds ($385 million) in fines. The fallout was so explosive that the cocksure American had been forced to tender his resignation as chief executive officer. Now he was in a packed room across from the Houses of Parliament, face to face with a dozen politicians who could all smell blood.
"I can't, sir," said Diamond, rubbing his eyelids.
"I can help, and I could offer to tattoo them on your knuckles if you want, because they are honesty, integrity and plain dealing," said Mann.
Defining Moment
Diamond's appearance in front of the Treasury Select Committee four years ago this week marked the fall from grace of one of British banking's most successful and controversial figures. It was also a defining moment in the history of the firm he came to personify. Since his departure, Barclays has struggled with false starts, crippling fines and lackluster performance. The firm today is smaller, less global and increasingly focused on the unglamorous side of banking.
The conclusion of the trial of five Barclays traders this week, on charges of manipulating the benchmark rate tied to trillions of dollars of securities and loans, is another symbolic milestone. Three of the men were convicted and will be sentenced this week. Jurors couldn't reach a verdict on the other two, who must now wait to find out whether prosecutors will pursue a retrial. Either way, executives will be hoping they can now draw a line under an era of high fines and misdemeanors.
"People may say that Diamond was the unacceptable face of banking, but he was good at what he did," said Chris Wheeler, an analyst at Atlantic Equities, expressing a widely held sentiment in the financial community. "There was a management vacuum at the top of the bank when Diamond and all his lieutenants left."
'Right Decisions'
Barclays is working hard to convince investors the worst is over. Its new leader, Jes Staley, another charismatic American investment banker, who joined from JPMorgan Chase & Co. in December, has his work cut out. In the past five years, Barclays has seen 20 billion pounds ($26.6 billion) of profit erased by misconduct charges. A three-year share slide accelerated after he arrived: The stock is down 36 percent this year after Staley cut the dividend and Britain voted to quit the European Union, leaving the bank trading at less than half the book value of its assets -- among the worst in Europe.
For a QuickTake explainer on how the benchmark probes unfolded, click here
Staley's response to the malaise has been to resist calls to further dismantle the investment bank and instead embark on retrenchment in other areas: selling down Barclays's century-old operations in Africa, exiting seven countries in Asia, closing offices in Russia and Brazil and imposing a hiring freeze. He has also pledged to boost capital and shift investment to the consumer and credit-card businesses.
"The things he's doing probably should have been done four years ago, so now the bank is starting to make the right decisions," said Alan Beaney, a director at RC Brown Investment Management, which owns Barclays shares. "We are not a million miles away from their record low and 0.5 price to book is just not right, no matter how bad things are over there. So at these levels we think it's quite an attractive play."
Joanne Walia, a spokeswoman for the bank in London, declined to comment.
Diamond's Downfall
It all looked very different when Robert Edward Diamond, "Red" to his friends, arrived in the U.K. in 1996 to run Barclays Capital, the bank's securities and investment division. At the time, fixed income, currencies and commodities, or FICC, was driving profits at investment banks and Diamond was a rising star. One of his first moves was to sell the equities and merchant-banking operations to concentrate on debt capital markets. That decision paid off when the dot-com bubble burst, equities plummeted and companies, governments and households increasingly turned to debt to fund themselves.
Diamond surrounded himself with trusted lieutenants, in particular Jerry Del Missier as head of trading and Rich Ricci in a host of senior roles. According to one former board member, Diamond was the salesman, Del Missier the brains and Ricci the enforcer. In 1997, Diamond's first year in charge, the business made a profit of 248 million pounds, about 14 percent of the group total. Ten years later, in 2007, it returned 2.3 billion pounds and accounted for more than a third of all profit. Over the same period, Barclays Capital's assets ballooned to 840 billion pounds from 135 billion pounds. By the end of 2006, Barclays shares had risen threefold to 657 pence.
When the 2008 financial crisis hit, Barclays -- with its limited exposure to the mortgage market -- was better-positioned than most banks, and it avoided a government bailout thanks to a 7 billion-pound investment from the Qatari and Abu Dhabi royal families. As its state-owned rivals licked their wounds, Barclays expanded, plugging gaps in the U.S. with the acquisition of Lehman Brothers Holdings Inc.'s operation, and poaching teams of investment bankers and equities traders in Europe. The metamorphosis to full-scale global investment bank was complete. In January 2011, Diamond was made group CEO.
His downfall came quickly. On June 27, 2012, Barclays pushed out a statement outlining the deal it had struck with regulators over Libor. The board had reckoned that by settling first they could put the issue behind them and move on. It was a catastrophic miscalculation. Internal e-mails of bankers offering to push Libor around for "a bottle of Bollinger" dominated the newspapers. The prime minister questioned the management team. By the weekend, Diamond was firmly in the crosshairs. It fell to Mervyn King, governor of the Bank of England, to pull the trigger.
Plastic Monoliths
With Diamond gone, the board knew it needed a complete shift in direction. Antony Jenkins, an Englishman with little investment-banking experience, was nobody's first choice as CEO, recalled a former board member, who said the one-time bank teller never shook off the air of a regional middle-manager. Even back then, several board members wanted to appoint Staley, but his $30 million price tag would have been politically unacceptable. Jenkins was less "Mr. Right" than "Mr. Right Now," a senior manager at the time quipped.
Jenkins's biggest job was to help repair the firm's tarnished reputation. He reined in pay and risk-taking, appeared in press articles decrying the failings of the past and backed an independent review of the bank's cultural shortcomings. In 2013, he unveiled a suite of reforms presented to staff in slick promotional videos. Five clear plastic monoliths with the letters R-I-S-E-S (for respect, integrity, service, excellence and stewardship) were installed in the lobby of the bank's Canary Wharf headquarters. Employees joked they only needed to add a C at the beginning for clients.
"People were skeptical of his drive, but he was very clear on this being a priority," said David Moss, who helps oversee about $254 billion of assets at BMO Global Asset Management, including Barclays shares. "How much has gone through I'm not sure, but certainly under him they tried very hard to push the message and change of culture all the way through the organization."
Simon Thiel, a spokesman for Jenkins, declined to comment.
Poor Results
The measures got short shrift from investment bankers, who saw Jenkins, with his background in retail and credit cards, as out of his depth. The sense of division grew as Jenkins culled staff and higher-ups like Ricci left. Executives say Jenkins rarely ventured onto the trading floor, preferring to send an underling in his place. It didn't help that results were consistently poor. In May 2014, after another dire round of earnings, he said he would eliminate 19,000 more jobs and set up a bad bank to dispose of 115 billion pounds of unwanted assets. Still, return on equity, a benchmark measure of profitability, fell to 4.9 percent in 2015 from 9 percent in 2012.
His efforts to revamp the culture were overshadowed by fresh scandals -- fines for currency rigging and mis-sold insurance, and probes into the bank's dark pool and 2012 Qatari capital-raising exercise. Most predated Jenkins's appointment, but by mid-2014, board members began to question whether he could ever turn things around.
When Chairman David Walker expressed his desire to step down, Mike Rake, the board's most senior nonexecutive director, invited a potential candidate to his office at BT Group Plc. Before ex-Aviva Plc Chairman John McFarlane, a hardliner known as "Mack the Knife," could be considered, Rake needed to know one thing: Would he be willing to temporarily step into the CEO job if Jenkins was pushed out?
How likely is that? McFarlane asked. "More than 50-50," came the reply.
The following June, the board held a meeting in a country hotel in Wiltshire, where the decision was made to let Jenkins go. Support for the step, according to some of those present, was unanimous, even though Barclays shares had recovered about 50 percent since his appointment. McFarlane upheld his promise to step into the breach as executive chairman, but the board didn't have to look long for a replacement. Staley was still keen, and, with a banker-friendly British government in power and public anger toward banks receding, the appointment no longer seemed so contentious.
Staley's Dilemma
Staley, 59, arrived with the trappings of a successful Wall Street career -- the 91-foot yacht, the mansion in Southampton, N.Y. He must now tread a fine line between the excesses of the Diamond era and the austere leadership of Jenkins. In a town hall meeting on his second day on the job, he sought to stamp his authority, enacting a hiring freeze and expressing exasperation that his predecessor had failed to get a handle on headcount. The exodus from Africa and swathes of Asia came next, followed by an unpopular two-year dividend suspension.
They were necessary steps: Costs continue to swallow more than four-fifths of the lender's income, and it has the lowest capital buffer of any U.K. bank. Staley has taken a particular interest in the investment-bank, taking over day-to-day management and batting away investors who have called for it to be spun off.
Yet the fallout from Britain's decision to leave the EU looms large, undermining London's status as a hub for cross-border activity and raising the spectre of recession. Brexit "changes everything about Barclays's investment proposition," Joseph Dickerson, an analyst at Jefferies Group, wrote in a June 27 note. The "structure, profitability and, indeed, existence of Barclays's investment bank are called into question."
Since the end of 2012 Barclays has cut more than 10,000 jobs, slashed 400 billion pounds from its balance sheet and reduced its trading portfolio assets by half. For the first time in at least two years, the bank reported no legal or misconduct charges in the first quarter, suggesting the Diamond-era problems are finally fading.
"Staley has had to adjust the way he's thinking about the business, and they will never be a top player," said Wheeler at Atlantic Equities. "They may make enough money as a second-tier player for him to be a success, but they won't be at the top table playing with the big boys."
Meanwhile, Diamond has turned his attention to Africa, forming an investment fund, Atlas Mara Ltd., that has emerged as a potential bidder for some of Barclays's assets. Diamond, 64, has said he sees huge opportunities for growth in the region. Barclays faces a more prosaic future.
Before it's here, it's on the Bloomberg Terminal.
LEARN MORE