Farage Resigns as UKIP Leader After 'Winning Country Back'
by and
UKIP chief joins Cameron, Johnson in stepping aside after vote

Tells reporters he'll watch Brexit negotiations 'like a hawk'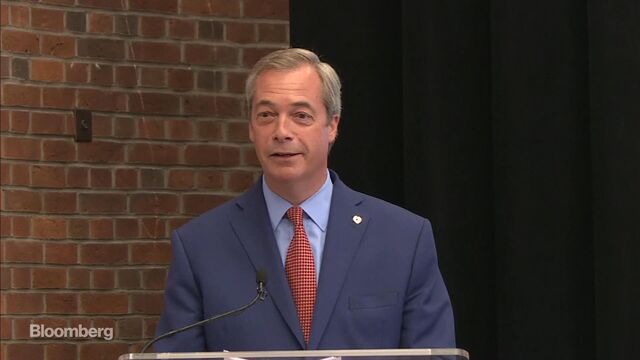 Nigel Farage resigned as leader of the U.K. Independence Party, saying that his victory in the referendum on leaving the European Union represented a career high to go out on.
Farage, 52, follows Prime Minister David Cameron as the second party leader to quit following the June 23 vote to unhitch the U.K. from the EU after more than four decades. Boris Johnson, the former London mayor who led the Vote Leave campaign, said last week that he wouldn't seek to contest the Conservative Party leadership and replace Cameron.
"I now feel that I've done my bit, that I couldn't possibly achieve more," Farage told reporters in London on Monday. "It's right that I should now stand aside as leader. What I said during the referendum campaign is I want my country back. What I'm saying today is I want my life back. And it begins right now."
The referendum result marked a personal success for Farage, who in the early 1990s helped to found a party later described by Cameron as "a bunch of fruitcakes, loonies, and closet racists." That represented a misjudgment as the prime minister found himself having to turn more euroskeptic to maintain his party's appeal to voters, ultimately calling the referendum on EU membership which sank him.
Irresponsible
The decision of Cameron, Johnson and Farage to "abandon the Brexit ship" is a "historic irresponsibility" that EU citizens will now have to pay for, Sweden's Deputy Prime Minister, Isabella Loevin, said on Twitter.
While UKIP won just one seat in last year's general election, it was able to rally supporters in part because of Farage's sound bites, as well as his partiality to a pint of beer and a cigarette. He began referendum night predicting defeat, only to mark the dawn declaring Britain's "Independence Day."
A former commodities broker, Farage helped set up UKIP after then Prime Minister John Major signed the Maastricht Treaty, which paved the way for a more integrated EU.
Willing to take on political correctness, Farage often drew accusations of racism. Following the January 2015 terrorist shootings in and around Paris, he sparked outrage among mainstream politicians when he spoke in the European Parliament of a homegrown "fifth column" of Islamic militants bent on taking down "our Judeo-Christian" way of life.
'Proper Job'
Farage will remain a lawmaker in the EU Parliament he joined in 1999. He last week told fellow lawmakers, "virtually none of you have ever done a proper job in your lives."
He said on Monday that he wanted to keep pressure on whoever is the next prime minister to take Britain out of the single market and cut immigration.
"We need a prime minister who recognizes that we've got the trump cards," he said, calling for negotiators to lobby European industry, including German car manufacturers and French wine makers ahead of general elections in both countries next year. "I will watch the renegotiation process in Brussels like a hawk," he said.
It is the second time Farage -- who's married to a German, Kirsten Mehr, with whom he has two teenage daughters -- has resigned in just over a year. He quit in May 2015 when he failed to get elected to Parliament, only to reverse that decision three days later.
"I have never been, and I have never wanted to be, a career politician," he said on Monday. "I won't be changing my mind again, I can promise you."
Watch Next: Farage Quits as UKIP Head as Leadsom Bids to Lead U.K.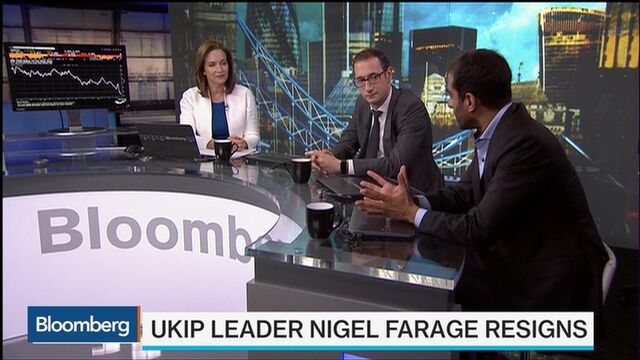 Before it's here, it's on the Bloomberg Terminal.
LEARN MORE