Jack Taylor, Billionaire From Enterprise Rent-A-Car, Dies at 94
Laurence Arnold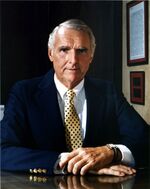 Jack Taylor, who became a billionaire by renting cars to Americans where they lived through the company he named Enterprise, after the aircraft carrier from which he flew planes during World War II, has died. He was 94.
Taylor died Saturday in St. Louis after a brief illness, Enterprise said in a statement.
With his family, Taylor built St. Louis-based Enterprise Rent-A-Car into the largest rental-car company in North America. He expanded the industry from its airport roots, opening outlets in cities and suburbs and offering, "We'll pick you up."
He was known for saying, "If you take care of your customers and employees, the bottom line will take care of itself."
Under his son, Andrew, who succeeded him as chief executive officer in 1991, Enterprise in 2007 bought National Car Rental and Alamo Rent A Car, combining three of the biggest rental brands in the U.S. under what became Enterprise Holdings Inc. Andrew Taylor stepped down as CEO of the closely held company in
2013.
Enterprise was the 16th-largest U.S. private company, with $19.4 billion in revenue in fiscal 2015, according to Forbes magazine. Taylor amassed a net worth of $7 billion as of July 1, according to the Bloomberg Billionaires Index.
His philanthropic gifts through the years included $50 million to Washington University in St. Louis to endow student scholarships and $30 million to the Missouri Botanical Garden to support global plant research.
Donating Trees
The Enterprise Holdings Foundation, run by Taylor's daughter, Jo Ann Taylor Kindle, said in 2006 that it would contribute $50 million over 50 years to fund the planting of 50 million trees. The organization has contributed more than $200 million since it began in 1982.
Taylor weighed taking the company public but never did.
"We thought about it three or four times," he said in an interview with the Missouri History Museum for an article published in 2007. "There were so many things that came up that they -- the street, Wall Street -- would expect from us, that finally Andy and I one afternoon we were sitting, I said, 'Andy, why don't we just bag it?' And Andy said, 'Right, let's bag it.'"
Jack Crawford Taylor was born April 14, 1922, in St. Louis, the first of two boys. His father, Mel, was a stockbroker. His brother, Paul, a former vice president of Enterprise Rent-A-Car, died in 2012.
Changed Man
He began college at Westminster College in Fulton, Missouri, and was studying business at Washington University in St. Louis when the Japanese attack on Pearl Harbor brought the U.S. into World War II. He joined the U.S. Navy in March 1942 and flew F6F Hellcat fighters from the U.S.S. Essex and U.S.S. Enterprise carriers in the South Pacific.
His time in the Navy changed him from "a callow youth into somebody with some intensity," he told the Missouri History Museum. Years later, he said, that after landing a Hellcat on a pitching carrier or watching bullets fly by you "somehow the risk of starting up my own company didn't seem all that big a deal."
He returned to St. Louis after the war and began a package delivery business, then sold cars at the local Cadillac dealer. There, in 1957, he opened his own business, Executive Leasing Co., which began renting cars by the day in 1962.
To separate himself from competitors, who were focusing on airport outlets, Taylor set his sights on neighborhood locations, appealing to customers who needed to rent vehicles while their cars were being repaired. In 1969, when he opened his first out-of-state branch, in Atlanta, Taylor began calling the company Enterprise, according to a company history.
'Never Thought'
Taylor had his two children with his first wife, Mary Ann; their marriage ended in divorce, according to a 2006 story in Fortune magazine.
"Enterprise sort of grew by itself," Taylor said, according to the article. "I never thought it would be more than a small-to-medium-sized business. I knew I wanted to live reasonably comfortably and to get a couple of new cars every two or three years, and I thought that if I was really successful, I would have maybe a condominium in Florida and a reasonably nice house here in St. Louis."
Before it's here, it's on the Bloomberg Terminal.
LEARN MORE