Micron's Global Consolidation Drive Still Has Big Korean Problem
by
U.S. company reporting losses, cutting jobs in tough market

Samsung still has scale, spending advantage over Micron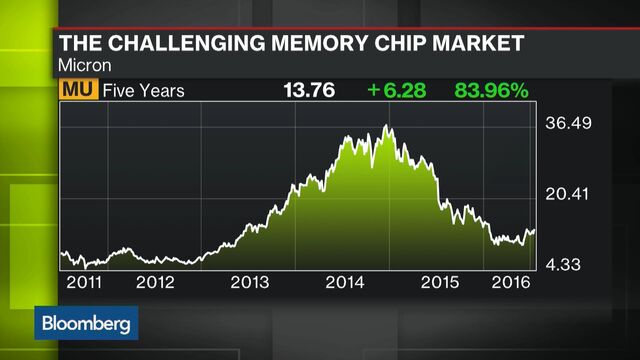 Micron Technology Inc., which tried to bring order to the brutal memory chip business by buying out rivals, has left the job unfinished.
The U.S.'s largest maker of the semiconductors that provide the short-term memory in computers and phones reported a loss in its fiscal-third quarter and said it's heading for another one in the current period. The outlook sent its shares tumbling. Demand isn't strong enough to account for industrywide output forcing prices of some chips below the cost of production.
While Micron has bought out U.S., Japanese, European and Taiwanese producers that once contributed to gluts, giving the company much more control over supply, it's still up against the Koreans. Micron failed more than a decade ago to purchase what is now SK Hynix Inc., a company then on the verge of bankruptcy. It's also still up against Samsung Electronics Co., which spends more on research and development alone than Micron gets in annual sales.
"People are just wondering when it stabilizes and gets better," said Ian Ing, an analyst for MKM Capital Partners. "They've consolidated a lot of the industry but they're still subscale."
Varied Assets
Micron's attempts to bring together disparate assets may be hampering its ability to shift to more efficient production, Ing said.
Unlike other types of chips, memory made by different companies is interchangeable. That means it's bought and sold as a commodity with prices fluctuating according to the balance between supply and demand. In times when orders are slow, cost reduction is the key to profitability. It also helps to be able to spread costs over a greater volume of shipments.
Micron reported a loss of $215 million in the fiscal third quarter on sales of $2.9 billion. It's on track to report a loss of $50 million this year, according to analysts. Hynix, which had $2 billion more in sales than Micron last year and is on course to report a similar declines of about 20 percent in revenue to the American company in 2016. The difference is it's going to have a profit of more than $1.5 billion, according to analysts estimates.
A key difference between the two might be in how lean their operations are. The South Korean company once resorted to turning the lights out in some of its plants to save money as it teetered on the edge of bankruptcy. Boise, Idaho-based Micron on Thursday said it intends to cut an unspecified number of workers.
Dominant Force
Regardless of what the companies do to bring down their overheads, they're still facing Samsung, which had a 45 percent market share in computer memory last year and more than a third of the market for memory used as storage in smartphones.
The company is also the biggest maker of phones -- a key market for both types of chips -- the largest maker of liquid crystal screens, the biggest maker of televisions and has other business that allow it to raise and divert cash into memory research and development and new plants and equipment. That often happens at a time when Micron and Hynix have to tighten their belts.
Micron's executives said Thursday they're aware of the gap in production abilities in some chips and have worked hard to close it. They expect their offerings, particularly for phone chips, to improve strongly in the second half of this year and raise the company's profitability.
For MKM's Ing, Micron's management have the right strategy and are heading in the right direction, it's just a case of whether the improvements will have more than a "transient" impact.
"They've got the long-view. They're doing the right things," he said. "But they need more time in a difficult industry, in a difficult environment."
Before it's here, it's on the Bloomberg Terminal.
LEARN MORE