Lynch Says She Expects to Accept FBI Advice on Clinton E-Mails
Toluse Olorunnipa, Chris Strohm and Mark Halperin
U.S. attorney general stops short of recusing herself in case

Lynch's meeting with Bill Clinton sparked Republican rebukes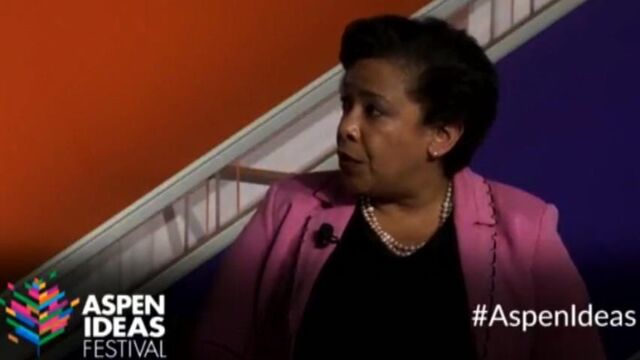 U.S. Attorney General Loretta Lynch said she expects to accept the recommendations of prosecutors and FBI investigators on whether to bring charges after their probe into Hillary Clinton's personal e-mail server, while acknowledging that her meeting on Monday with Bill Clinton "cast a shadow" on the inquiry.
At the same time, Lynch seemed to contradict her own suggestion that she would automatically accept the findings of career prosecutors when she said the Clinton e-mail case would be "handled like any other." Earlier Friday, a top Justice Department official told Bloomberg that Lynch would reserve her right to overrule prosecutors' recommendation -- an option attorneys general typically possess, but rarely use, in criminal cases.
"I fully expect to accept their recommendations," Lynch said Friday at the Aspen Ideas Festival in Colorado. "The final determination for how to proceed will be contained in the recommendations in the report."
Lynch has come under criticism after she met privately on board an aircraft in Phoenix with former President Bill Clinton. She described the encounter as a purely "social" occurrence that won't "have a bearing" on the e-mail investigation and said: "I certainly would not do it again." But she emphasized that she wouldn't recuse herself from her role in reviewing and acting on prosecutors' findings.
"A recusal would mean that I wouldn't even be briefed on what the findings were, or what the actions going forward would be," Lynch said. "While I don't have a role in those findings and coming up with those findings or making those recommendations as to how to go forward, I'll be briefed on it and I will be accepting their recommendations."
Lynch and her aide both emphasized the case would be handled in the usual manner, despite its high-profile political stakes and the meeting with Bill Clinton. The usual manner includes the attorney general showing strong deference to her staff recommendations, while reserving the right to overturn their proposal.
Donald Trump accused the Clintons of conspiring to arrange the meeting with Lynch.
"Bill's meeting was probably initiated and demanded by Hillary," the presumptive Republican nominee for president said in a Twitter posting. "Does anybody really believe that meeting was just a coincidence?"
The probe into Clinton's use of a private e-mail server during her tenure as secretary of state has cast a shadow over her presidential campaign. The investigation continues even as Clinton is poised to accept the Democratic presidential nomination later this month.
Tarmac Meeting
Lynch and White House officials have said repeatedly that the investigation wouldn't be influenced by politics. Lynch told reporters that there was "no discussion" with Bill Clinton of the FBI's investigation or any matter before the Justice Department at what she described as an impromptu encounter. The two discussed Clinton's grandchildren and former Attorney General Janet Reno, Lynch said Friday.
"He spoke to me and he spoke to my husband for some time on the plane and then we moved on," she said.
An aide to Bill Clinton, who asked for anonymity to describe the private meeting, said it was a chance encounter when the former president realized the two were sitting in planes at the same airport. As president, Clinton had appointed Lynch as U.S. Attorney for the Eastern District of New York in 1999.
Public Confidence
The White House faced questions Friday about whether the administration approved of the meeting, and if it might undermine public confidence into the e-mail investigation. The probe has been a persistent drag on Hillary Clinton's presidential campaign.
White House Press Secretary Josh Earnest said Lynch has been forthcoming about the meeting with the former president at Sky Harbor International Airport and that he wouldn't "second-guess" the attorney general's handling of the case.
"When it comes to judgment, there is no quarreling with the 30-year history Loretta Lynch has established as a highly qualified, highly competent federal prosecutor.," Earnest told reporters on Friday.
Republicans blasted the meeting as a sign of undue political influence into a judicial matter, with some calling for Lynch to recuse herself from the case.
Texas Senator John Cornyn, the second-ranking Republican in the chamber, said the incident warrants the appointment of a special prosecutor to continue the investigation into Clinton's use of e-mail.
"This incident does nothing to instill confidence in the American people that her department can fully and fairly conduct this investigation," Cornyn said in a statement.
Classified Material
The FBI is investigating whether classified material was mishandled through Clinton's use of a private server for her personal and government communication while she was secretary of state during Obama's first term. The server set-up, which Clinton has said was a mistake, has provided a frequent attack line for her critics as she runs for president.
Previous attorneys general have been criticized for wading more directly into cases, or overruling the recommendations of investigators.
After the FBI concluded that former CIA Director David Petraeus had committed a felony by providing classified information to his mistress and lying about it, then-Attorney General Eric Holder reduced the charge to a misdemeanor.
The case caused consternation publicly and within the department.
Lynch said she doesn't have "insight into the nuts and bolts of the investigation" and doesn't know when she will receive the report on it.
During the event in Colorado, Lynch said she had always planned to accept recommendations from prosecutors, but wanted to discuss those plans publicly after her meeting with Bill Clinton "raised questions and concern."
Before it's here, it's on the Bloomberg Terminal.
LEARN MORE