Balmuda Toaster: The Best Thing Since Fresh Bread
It's not the heat with this toaster, it's the humidity.
By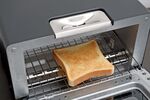 Innovator Gen Terao
Age 42
Founder and president of Tokyo-area appliance maker Balmuda, which has 50 employees
Form and function
The Balmuda toaster oven uses steam and carefully calibrated heat cycles to turn store-bought bread into something that smells, feels, and tastes like it's just popped out of a baker's oven. 

Origin
In 2014, Balmuda began work on a toaster after a rainy-day barbecue taught Terao that humidity could help keep toasted bread moist.
Background
Terao, a high school dropout who spent a decade fronting Japanese rock band the Beach Fighters, started Balmuda in 2003, building aluminum laptop stands.
Steam
With an included cup, users pour 5 cubic centimeters of water in an opening at the top of the 14-by-13-by-8-inch toaster. A tiny amount of steam traps moisture in bread as it's gradually warmed, before the toaster finishes it off with a dose of high heat.
Price
The toaster costs 24,000 yen ($230) and is available in Japan in stores and online.
Sales
Since the toaster's June 2015 debut, Balmuda has sold about 10,000 per month. There's a three-month wait. 
Cycles
Unlike conventional ovens, Balmuda's toaster uses thermostats to maintain precise, scorch-free warming cycles, which users can customize based on the type of bread. 

Next Steps
"Consumers are embracing gadgets that do one thing well," says Hiromi Yamaguchi, an analyst at researcher Euromonitor International. Mark Oda, an app marketer in Tokyo who was among Balmuda's first buyers, says he'll never be able to go back to cheaper toasters. Balmuda recently expanded sales of the toaster oven to South Korea but says it's not planning to move into the U.S. or Europe anytime soon. Some are available through resellers on Amazon.com and elsewhere.
Before it's here, it's on the Bloomberg Terminal.
LEARN MORE