Photographer: Daniel Acker/Bloomberg
What's 'All Natural' Meat? Hormel Is About to Find Out
Consumer protection laws are invoked in a lawsuit over an advertising campaign.
by
Never has it been quite so complicated to pick out the best deli meat, a point made rather dryly last year in a commercial for Applegate Farms, the largest natural and organic meat company in the U.S.
"Is it all natural?" a woman asks a supermarket clerk—a bodybuilder in a cow costume—about turkey in the deli case.
"It's natural tasting," he responds in a Russian accent. 
She persists: "Well, what's that mean?"
"It means it tastes natural," he says, flexing his chest muscles.
The commercial ends with the line: "What's in your sandwich?" Then it cuts to Applegate's own products, whose provenance is explained on the company's website: no antibiotics or growth hormones; animals are fed a vegetarian diet and "given room to engage in natural behaviors." In other words, what a reasonable person might consider to be "all natural." 
Consumer confusion surrounding the ubiquitous phrase has been pervasive for as long as the food industry figured out the two words sell, and sell big. This is especially the case when they're used to market meat and poultry. But the fictional shopper was one step ahead of most: at least she knew to ask. A 2015 Consumer Reports survey shows most consumers draw their own, usually false conclusions about the term: Some 64 percent believe natural means no artificial growth hormones; 57 percent believe there are no antibiotics or other drugs used; half believe the animal went outdoors. That never stopped the label from being slapped onto a package of sausage or bacon when none of those three things were true: "All natural" can mean pretty much whatever you want under current regulations.
Now a lawsuit filed Wednesday in Washington, D.C., Superior Court alleges that one of the worst offenders is Hormel Foods Corp., which is a little ironic seeing as this purveyor of processed meats recently bought Applegate. And according to the complaint filed by the Animal Legal Defense Fund, the problem is much bigger than just those two magic words. 
The group contends that the advertising campaign for Hormel's Natural Choice line of deli meats misleads consumers—arguably in the same way the muscular deli counter man-cow does in the Applegate spot. The Hormel website boasts that its lunchmeat "has no preservatives and no artificial ingredients added" and is an "honest product made with clean ingredients." The words "natural" and "100% natural" are stamped on the front of the packages, as well as on the brand's Facebook and YouTube pages, print ads, and videos.  
The ALDF argues that "there is nothing natural about the way Hormel's Natural Choice products are produced." Like the animals raised for other Hormel products, the ones destined for a Natural Choice package are raised indoors, with growth-promoting hormones, including the controversial ractopamine, and subtherapeutic antibiotics, the group alleges. As evidence, it contends that nothing in public company filings indicates that Hormel has separate production centers or supply chains for the Natural Choice line and that one of Hormel's own internal presentations drives this point home: It has a picture of a pig with the loin highlighted, showing many different brands, including Natural Choice, it can go into. The ALDF is asking for an order to stop all advertising it claims violates consumer protection laws. 

The processing of the meat isn't all natural either, the group says. Despite claims the products have "no nitrites or nitrates added," they are hardly preservative-free: In addition to the naturally high-in-nitrate celery juice powder used in the products, many Natural Choice items also contain lactic starter acid, a bacterial culture. The Center for Science in the Public Interest says bacterial cultures convert the nitrates into sodium nitrite, a meat preservative it warns should be avoided because studies link its consumption by children and pregnant women to cancer. (CSPI specifically advises consumers to be wary of "natural" hot dogs and cured meats boasting of "no added nitrite" for this reason.) One Natural Choice video features a woman in labor complaining she hasn't eaten lunch-meat in nine months, while a spokesperson responds "this meat has no preservatives," holding out a sandwich.
"Natural," "all natural," and "100% natural" have no real legal definition under U.S. Department of Agriculture regulations. But the new lawsuit goes beyond the USDA's domain because it's aimed at the marketing of Natural Choice. "This isn't just about their label, it's about a national, wide-ranging advertising campaign," says Kelsey Eberly, a staff attorney at the Animal Legal Defense Fund. "The deception is baked into their brand."
Hormel said in a statement that it stands behind its labeling and advertising. Its Natural Choice products "are produced, labeled, and marketed in conformance with all applicable laws and regulations." The company says that the USDA's Food Safety and Inspection Service "has specifically reviewed and approved the labels for Hormel Natural Choice branded products, including scrutinizing and approving the 'Natural' and 'Preservative'-related language" at issue in the suit. (Applegate said that "as a stand-alone subsidiary that operates independently from Hormel," it doesn't speak for Hormel about its products and practices.)
Regarding the safety of nitrates and nitrites, Hormel says it has "invested in technology to provide consumers the safest product possible" and notes that they are regulated by the government with maximum allowable levels. Of the lawsuit, Hormel spokesman Rick Williamson says it's "without merit." 
The suit may face an uphill battle, largely because of Hormel's argument that nothing runs specifically afoul of USDA rules. "If I were Hormel, I would argue that it's all preempted, and the [deceptive advertising claim] is just a way to try to get around that," says William L. Stern, a San Francisco-based partner at Morrison Foerster who specializes in defending companies against consumer class actions. He points out that Hormel can argue that even the name "Natural Choice" isn't a statement about the product's natural qualities, but rather an emphasis on the idea of choosing it. "It will be important for [ALDF] tactically to say it's not just the label, it's the whole advertising campaign."
If the case gets past initial motions to dismiss it, the ALDF will need to show actual consumer confusion around these specific claims, says Christopher Van Gundy, a partner in Keller Heckman LLP's litigation and food and drug practice groups. Broad claims of consumer confusion about the term "natural" won't necessarily be enough. "They're going to have to come forward with evidence about Natural Choice or its advertising claims," he says. "They're going to have to find the relevant market." 
While a number of lawsuits have targeted food products making natural claims, this is the first for a meat product, Eberly says. That Hormel can fall back on its adherence to USDA guidelines only underscores the problem, she says. "Our lawsuit aims to compensate for these troubling regulatory gaps."
Other advocates, however, have largely given up on reining in this particular term. 
"We lost the battle on natural," says Ariane Daguin, founder of D'Artagnan, a purveyor of free-range, sustainable and humane meats since 1985. While not discussing the Hormel case, she sounded a hopeful note about the prospect of a lawsuit to stop these practices. "One big example may help move things forward," she said. "But if it doesn't succeed, it's going to have the contrary effect."
Watch Next: Confused About What to Eat? You're Not Alone.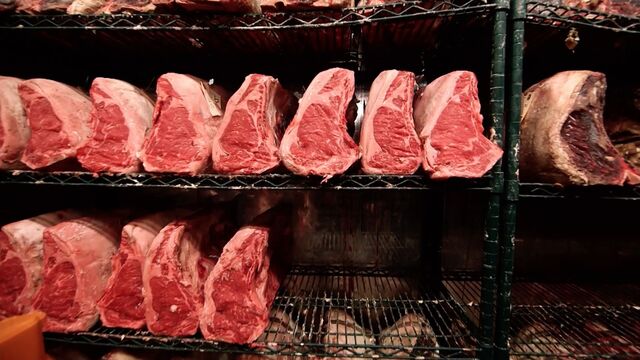 Before it's here, it's on the Bloomberg Terminal.
LEARN MORE