There's So Much More to Summer Than Happy Hour
Learn to sail. Take an aerial fitness class. Design jewelry. Marvel at architecture. You get the point: It's summer, and it's time to have some fun.
By and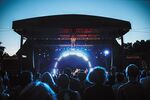 Want to get a drink after work? You've heard the question—and said "duh"—a thousand times. But some people actually do stuff after leaving the office, actual activities that might actually be good for them. In a study published last year in the Proceedings of the National Academy of Sciences, Stanford researchers found that spending time in natural environments (we'll consider Barnsdall Art Park in Los Angeles one) reduces negative thoughts. The same goes for other "positive distractions," such as jumping on a trampoline, getting DJ lessons, and taking a glass blowing class. Alcohol can be a positive distraction—news flash!—but imbibing too much triggers the release of stress hormones (and who hasn't downed one too many when the drinks were two for one?). Instead of boozing with co-workers, says Ben Waber, president and chief executive officer of behavioral analytics company Humanyze, the better career move is to expand your social circle. "People who have diverse networks tend to be promoted faster and get new jobs more quickly," he says. Here's how to best take advantage of that time between turning off your computer and turning out the lights.
NEW YORK:

Outdoors: Listen to Herbie Hancock, the Lumineers, and others at the Celebrate Brooklyn! concert series. Through Aug. 13. Times and prices vary; bricartsmedia.org
Fitness: Sweating on the A train: not a real workout. Try dance cardio at 305 Fitness. Weeknights at 7:40, 18 W. 18th St. $32 per class; 305fitness.com
Entertainment: Play Cards Against Humanity in the rare-book room at the Strand. July 24, 7 p.m. to 9 p.m., 828 Broadway. Free; strandbooks.com 
Crafting: Needlepoint—it's not just for Grandma. Learn the basics at Make Workshop. July 12, 7 p.m. to 9 p.m., 256 3rd Ave., Brooklyn. $60; makeworkshop.com
Lessons: The Fermented Man shows you how to preserve veggies. Aug. 9, 6:30 p.m. to 8:30 p.m., 63 Flushing Ave., Brooklyn. $45; brooklyngrangefarm.com
Ideas to try before work:
Instead of: That boring bran muffin
Try: Slurping up Ivan Orkin's breakfast ramen. (Think dashi-cheddar broth.) It's served starting at 8 a.m. at his Slurp Shop, 600 11th Ave. $13; ivanramen.com
LOS ANGELES:

Outdoors: Watch the sunset and sip some wine at Barnsdall Art Park. Fridays through Aug. 26, 5:30 p.m. to 8:30 p.m., 4800 Hollywood Blvd. $30; barnsdall.org
Fitness: The surf-inspired workout at Sandbox Fitness puts you on a board. In a sandbox. Thursdays at 7:30 p.m., 8317 Beverly Blvd. $26 per class; sandbox-fitness.com
Entertainment: See the sci-fi classic Blade Runner on the Montalbán Theatre rooftop. July 8, 8:15 p.m., 1615 Vine St. $17; rooftopcinemaclub.com
Crafting: Get dirty with a ceramics class at Bitter Root Pottery. Weekdays, 7 p.m. to 9 p.m., 7451 Beverly Blvd. $50 per class; bitter-root-pottery.myshopify.com
Lessons: Become the next Calvin Harris at Scratch DJ Academy. Mondays, July 27 to Aug. 31, 8 p.m., 2324 Cotner Ave. $425 total; scratch.com

Ideas to try before work:
Instead of: Being stuck in traffic on the 101 southbound
Try: L.A.'s new Metro Expo line. It runs from Santa Monica to downtown and takes about 50 minutes. $1.75; metro.net
CHICAGO:
Outdoors: Cruise down the Chicago River with the Chicago Architecture Foundation. Weeknights at 7:30, 224 S. Michigan Ave. $46; architecture.org
Fitness: AIR's aerial-fitness class suspends you in a hammock, combining yoga and Pilates. Wednesdays at 7:15 p.m., 2217 N. Clybourn Ave. $30 per class; airfitnow.com
Entertainment: Chill out to indie crooner Jose Gonzalez as he plays Millennium Park, part of its concert series. Aug. 1, 6:30 p.m. Free; cityofchicago.org
Crafting: Fire! Hot lava! Fashion a one-of-a-kind glass at Ignite Studio's glass blowing class. Mondays, 4 p.m. to 8 p.m., 401 N. Armour St. $98 per class; igniteglass.com 
Lessons: Don't drift off to Kenosha. Learn the basics at Chicago Sailing. Appointments by request, North Belmont Harbor. From $90/hour; chicagosailing.com
Ideas to try before work:
Instead of: Another sleepy jog on the treadmill
Try: Taking your workout to the roof. Shred 415 hits the top of the Park Hyatt Hotel for its fat-burning routine (cardio drills, strength training). Wednesdays, 6:30 a.m., 800 N. Michigan Ave. $25 per class; shred415.com 
HOUSTON:

Outdoors: Drive to Waugh Bridge and watch 250,000 bats go looking for food at the same time. Nightly at sundown, Waugh Drive. Free; houstontx.gov
Fitness: You can jump up and down all you want at Sky High Sports' trampoline romp. Wednesdays until 9 p.m., 10510 Westview Dr. $11/hour; skyhighsports.com
Entertainment: James Turrell's Skyspace light installation turns on at sunset. Daily except Tuesdays till 10 p.m., Rice University. Free, but book in advance; skyspace.rice.edu
Crafting: Makerspace's class teaches you jewelry design, and you'll fashion a ring to take home. July 5, 6 p.m. to 8 p.m., 3605 Texas St. $60; makereducationinc.org
Lessons: Up your 'gram game: Take phoneography at the Center for Photography. Aug. 9, 16, and 23, 7 p.m. to 9 p.m., 1441 W. Alabama St. $145 total; hcponline.org

Ideas to try before work: 
Instead of: That same-ol' iced tall skinny vanilla latte
Try: Nitro coffee. The traditional brew is infused with nitrogen gas, giving it a frothy texture. District Roasters in nearby Tomball ($4; districtroasters.com for Houston vendors) serves it bottled, and Starbucks is adding it to 500 locations this summer.
PHILADELPHIA:

Outdoors: The Oval, a pop-up amusement park, has games, food trucks, and a beer garden. July 15 to Aug. 21 until 10 p.m., 2601 Ben Franklin Pkwy. Free; theovalphl.org 
Fitness: RippedPHL will get you looking that way with a treadmill, weights, and body bars. Wednesdays, 6:45 p.m., 1519 Walnut St. $23 per class; rippedphl.com
Entertainment: The Museum of Art offers late Wednesdays and Fridays, 5 p.m. to 8:45 p.m., year-round, 2600 Ben Franklin Pkwy. Donations accepted; philamuseum.org
Crafting: Learn to make a greeting card, aka that thing people sent each other pre-Facebook. July 13, 6 p.m. to 8 p.m., 701 Belgrade St. $45; craftfoundry.com 
Lessons: Put an end to mushy gnocchi with a pasta making class at La Cucina at the Market. July 12, 6 p.m. to 8:15 p.m., 310 S. 48th St. $95; lacucinaatthemarket.com
Ideas to try before work:
Instead of: Listening to your kids complain about their homework
Try: Attending the Philly chapter of CreativeMornings, a nationwide lecture series that brings creatives and audiences together for talks over breakfast. Free; creativemornings.com 
An Argument for Alcohol
Needlepoint? Sure, if that's your thing. Trampolining? Sounds fun, until you realize you've become less flexible since you were 12. Art museum? Whoa, that would probably require a lot of thinking. For all the alternatives to sidling up to a bar and ordering a Manhattan (fall, winter), a Negroni (spring, summer), or a High Life (is it 5?), does anything beat sitting, slowly forgetting about your spreadsheets, and chatting up strangers? That's a rhetorical question. The answer is no. "Maybe find time for that new activity before work," says Jim Kearns, bar director for New York's Happiest Hour (happiesthournyc.com), which offers free French fries and a $10 beer-and-shot special from 5 p.m. to 7 p.m., Monday through Thursday. (Take that, vegetable preservation class.) If nothing else, says Jeff DeCanio, Happiest Hour's general manager, bars usually have one summer essential you're not going to find at an outdoor food festival: "air conditioning."
(
Corrects days of the week the Philadelphia Museum of Art offers late hours, as well as time of year those hours are available.
)
Before it's here, it's on the Bloomberg Terminal.
LEARN MORE