Speaker Ryan Plans House Vote on Gun Provision After Sit-In
By
Democrats keeping mum on whether demonstrations will continue

Speaker said to be weighing options on dealing with sit-ins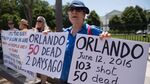 Speaker Paul Ryan told House Republicans Thursday that he will hold votes on a "terrorism package" next week that will include a provision to prevent suspected terrorists from buying guns.
Ryan's announcement -- which happened in a private conference call with rank-and-file members, according to a person on the call -- comes a week after House Democrats staged a dramatic 25-hour sit-in to demand votes on gun bills. The House returns to session on Tuesday.
Ryan told Republicans that a mental-health bill and a gun-related measure would receive votes, according to the person on the call.
The details of the gun-related legislation are still unclear, but the measure might not be enough to mollify Democrats, who have expressed significant frustration with Republican opposition to gun control measures after previous mass shootings. 
"House Democrats will keep up our efforts to push for the majority to allow a vote on gun violence legislation, but bringing up a bill authored by the NRA just isn't going to cut it," Drew Hammill, a spokesman for Minority Leader Nancy Pelosi, said Thursday afternoon in a statement, referring to the National Rifle Association.
On the other side of the Capitol, Senate Democrats voted against several Republican-proposed gun provisions in their chamber over the past two weeks as they demanded a stronger reaction to the shooting in Orlando, Florida, where 49 people were killed earlier this month.
Representative John Larson -- a Connecticut Democrat who helped organize the House sit-in -- said Thursday that he does not know what gun-related legislation Ryan is talking about, but he said he'll take it as a good sign that the speaker wants to wrap some type of gun language into a counterterrorism package.
"I think they are probably getting some pushback from within their own conference about why not take up some of these bills," he said, referring to gun-related measures.
Larson said that he and fellow sit-in organizer, Representative John Lewis of Georgia, wrote to Ryan asking for a face-to-face meeting to discuss gun legislation.
Asked if more House floor sit-ins are possible, Larson was coy, saying, "It's hard to say. We don't know what's going to happen."
Mental Health
Ryan told Republicans Thursday that the new counterterrorism package would include provisions to disrupt radicalization and recruitment, as well as one to prevent suspected terrorists from buying guns, the person on the call said. He also said the House will take up a mental illness bill, sponsored by Representative Tim Murphy of Pennsylvania, aimed at trying to prevent gun violence by identifying and treating serious mental illness in would-be perpetrators.
Ryan made the case to his caucus that Democrats are desperate to change the narrative from terrorism to guns because they don't want to defend their own record on terrorism, the person said. He also said that any new legislation needed to protect the due process rights of Americans.
Ryan wasn't specific on what he plans to do if Democrats continue to stage sit-ins or other protests on the House floor, the person on the call added. He also told Republicans that he and other leaders are still evaluating whether any penalties are warranted related to the sit-in.
As of Thursday, Democrats involved in the demonstrations last week weren't saying what else they might have planned -- if anything -- now that the element of surprise is gone.
Before it's here, it's on the Bloomberg Terminal.
LEARN MORE