U.S. Supreme Court Won't Reopen Union-Fees Case, Leaves Deadlock
By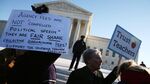 The U.S. Supreme Court refused to reopen a case over public-sector workers' obligation to help fund the union that represents them, leaving intact a 4-4 deadlock.
The court on March 29 announced the deadlock, which left in place a lower court decision lets more than 20 states continue to require public-sector workers to pay union fees.
Rejecting a last-ditch call for a new hearing by California teachers opposed to the mandatory fees, the justices said Tuesday they wouldn't revive the case and carry it over to the term that starts in October. That step could have let the court issue a ruling once a ninth justice is confirmed by the Senate.
Union critics had hoped the case would produce a watershed victory giving workers a First Amendment right to withhold fees. Justice Antonin Scalia's Feb. 13 death changed the dynamic, depriving that side of what probably would have been a fifth vote.
The case is Friedrichs v. California Teachers Association, 14-915.
Before it's here, it's on the Bloomberg Terminal.
LEARN MORE