Soros Wagered Deutsche Bank Would Drop in Brexit Turmoil
by
Short position of 7 million shares was taken day after vote

Stake would be worth $108 million at highest price Friday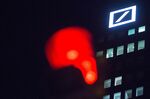 Soros Fund Management took a short position in Deutsche Bank AG of about 7 million shares as turmoil from the U.K.'s decision to leave the European Union sent bank stocks lower.
The position taken on Friday was equivalent to 0.51 percent of Deutsche Bank's share capital, according to a German filing published on Monday. The document doesn't show at which price the fund took the position.
Deutsche Bank shares fell 16 percent at the open on Friday and closed down 14 percent at 13.37 euros. Their highest price that day was 13.95 euros. At that level, a 0.51 percent stake would be worth about 98 million euros ($108 million). After extending losses on Monday, the shares were trading 4.5 percent higher at 10 a.m. Tuesday in Frankfurt.
German newspaper Die Welt reported the sale earlier.

Fallout from the U.K. referendum could force banks to take losses on trading assets and lead clients to hold back from raising funds and pursuing acquisitions. That may complicate Deutsche Bank's efforts to lift returns and capital levels to reverse a stock slump that has made it the worst-valued global lender.
The U.K's decision may cut the total net income of European banks in the three years through 2018 by 32 billion euros, while U.K. bank profits may be 10 billion euros lower, according to analysts at Goldman Sachs Group Inc.
Marshall Wace
Hedge fund Marshall Wace had 6.62 million Deutsche Bank shares in a short position, according to a filing dated June 17. A spokesman for the company declined to comment on the position on Tuesday.
In short sales, investors borrow securities and then sell them in the belief that they will later be able to purchase them for a lower price.
George Soros, the billionaire whose 1992 wager against the pound made hedge fund history, was "long" the currency before Britain's vote to leave the EU, a spokesman said in an e-mailed statement Monday. "Because of his generally bearish outlook on world markets," Soros did profit from other investments, according to the statement.
Before it's here, it's on the Bloomberg Terminal.
LEARN MORE