Photographer: Craig Warga/Bloomberg
N.J.'s Evolving Road Plan Ladles Billions of New Debt on Old
By and
Lawmakers want to finance most for highways, rail since 2011

Less than week from deadline to raise gas tax, or no projects
New Jersey's rapidly evolving plan to spend $16 billion on road improvements over eight years would push record debt ever higher in a state with the nation's second-worst credit rating.
Never have lawmakers committed to a Transportation Trust Fund authorization of such size and duration, but the state is hamstrung by failing infrastructure. At the same time, New Jersey's credit rating has been cut three times by three companies under Republican Governor Chris Christie, and it's under pressure to keep it from falling further in the face of escalating pension costs and a financial crisis in Atlantic City.
The Assembly and Christie late Monday night and early Tuesday hurriedly negotiated a new plan to replace the initial $20 billion, 10-year proposal that the governor had said he would veto. In a bow to the governor's insistence on wider tax relief, the lower house approved cutting the sales tax to 6 percent from 7 percent, and authorizing $16 billion for roads over eight years. To become law, the plan needs a vote by the Senate, expected Thursday, and Christie's signature.
The proposed highway borrowing, backed by a higher gasoline tax, is atop the $16.4 billion debt outstanding in 2016 on past Transportation Trust Fund projects, contributing to the state's overall $154 billion in debt. In the next fiscal year alone, New Jersey must come up with $1.23 billion to retire old highway debt. That means the state may have to pay investors more to hold its bonds.
"The story with New Jersey is that the credit is under some duress, so there would have to be additional yield concessions," said Paul Brennan, a senior vice president in Chicago at Nuveen Asset Management, which oversees about $100 billion of municipal bonds, including the Transportation Trust Fund Authority's.
Buyers of trust fund securities demand higher yields than that of top-ranked debt and of similarly rated bonds. A trust fund bond due in June 2026 traded Monday at an average yield of 2.91 percent, compared with 1.37 percent for AAA 10-year debt and 1.95 percent for A-rated revenue securities of the same maturity, data compiled by Bloomberg show.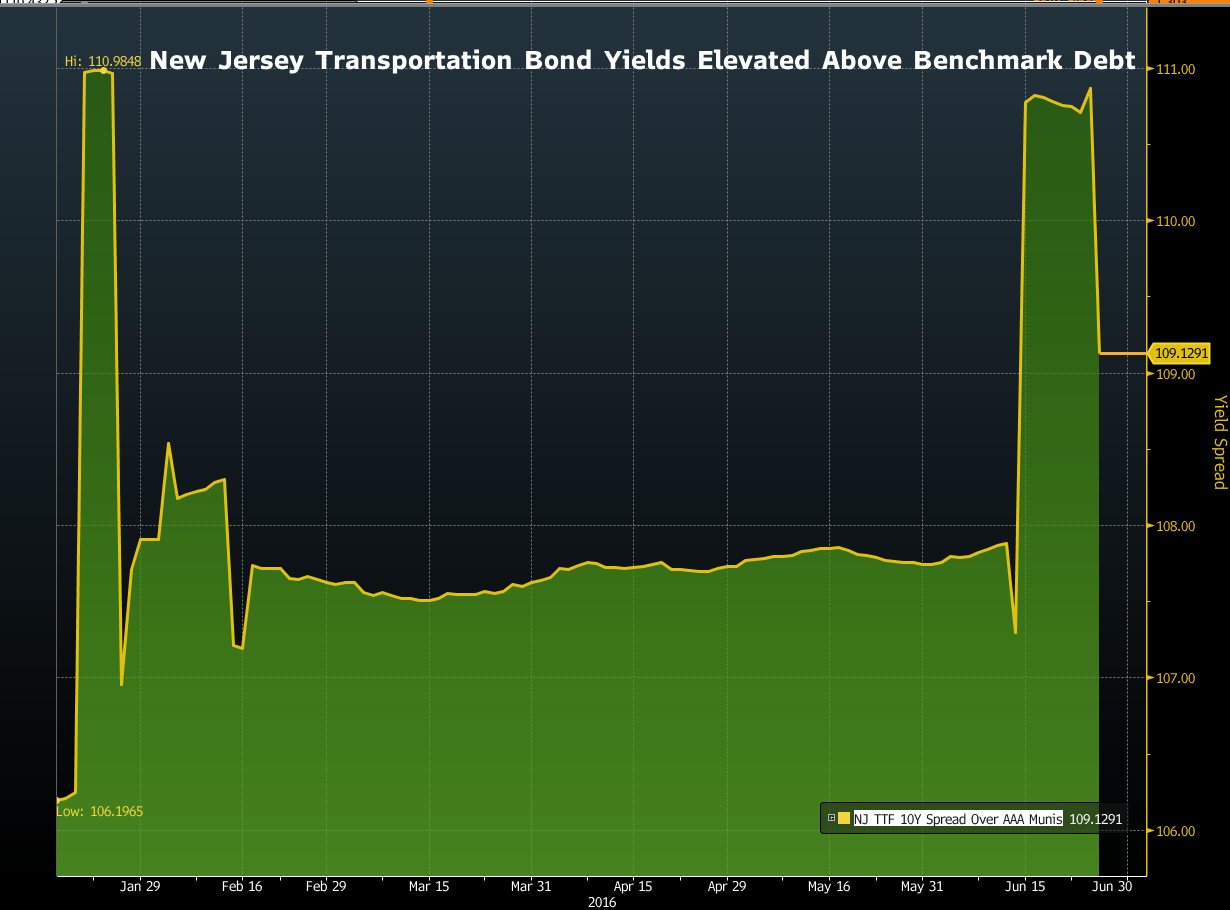 New Jersey, the most densely populated U.S. state, counts on well-maintained highways and mass transit for access to New York City jobs and international commerce via airports and ocean terminals. Bridges and highways suffered as Christie's revenue expectations failed to materialize and he refused to raise taxes. On June 16, the infrastructure was awarded a failing grade, down from average in 2007, by the New Jersey chapter of the American Society of Civil Engineers.
Improvements will halt if legislation to replenish the trust fund isn't signed by July 1. Only Alaska's tax is lower than New Jersey's 14.5 cents per gallon. The new tax, 37 cents, would be seventh-highest in the nation.
"Raising the tax is distasteful," Sal Risalvato, president of the New Jersey Gasoline, Convenience Store and Automotive Association, told the Senate Budget Committee in Trenton on June 23. "The result of not raising the tax is even more distasteful."
Lawmakers delayed a Monday vote on the plan and have until Thursday, a day before fiscal 2017 begins and the deadline to authorize the fund. It wasn't immediately clear how the state would make up for a sales-tax shortfall estimated by the legislative services office at $1.6 billion in fiscal 2019, after the tax is reduced to 6.5 percent in January 2017 and to 6 percent a year later.
"I am pleased that the Assembly has heeded my suggestion for tax fairness, which I have been calling for for a long time," Christie said in an e-mailed statement Tuesday. "This is the first broad-based tax cut for all New Jerseyans since 1994."
Debt Devours
New Jersey, whose highway links to Pennsylvania, New York and Delaware are critical to the nation's commerce, is suffering for the decision, by Republican and Democratic administrations alike, to leave the gas tax at 14.5 cents, the 1989 level.
Initially, that revenue generated enough to pay mostly cash for transportation projects. In 1993, though, the cash component for the first time was less than 50 percent. From 2011 to 2016, Christie -- who had promised to rely more on "pay-as-you-go" spending -- borrowed $6.6 billion, 100 times greater than his cash outlay.
Meanwhile, a lackluster economic recovery, an $83 billion unfunded pension liability and high debt led the three major credit-rating companies to issue a total of nine downgrades, unprecedented for a New Jersey governor. The only state with credit worse than New Jersey's is Illinois, dropped to two steps above junk on June 9 by Moody's Investors Service.
For the fiscal year that starts July 1 through 2046, New Jersey has aggregate Transportation Trust Fund debt service totaling $30 billion, according to the legislative services office. Mark Magyar, an aide to Senate Democrats, said new borrowing would be an unspecified mix of short-and long-term issues, with average 5 percent interest.
The initial legislation's primary Senate sponsors, Democrat Paul Sarlo from Wood-Ridge and Republican Steve Oroho from Franklin, had backing from labor unions and business groups. Each dollar spent from the Transportation Trust Fund generates $2.35 in economic activity, according to the New Jersey Business and Industry Association.
Past fund authorizations have been for no longer than seven years. The most recent, which expires June 30, was for $8 billion over five years. The pending proposal, for eight years, would spend $2 billion annually, with a mix of borrowing and cash.
"We would have loved to see it be more, but the reality is that the hole the state has dug itself into, it can't," said Anthony Attanasio, executive director of the Utility & Transportation Contractors Association of New Jersey. Still, he said, the shift to financing for less than 30 years is more responsible.
"We're replacing certain roads every 10 or 12 years," Attanasio, a former state transportation department commissioner, said in an interview. "Doing 30-year terms, the roads are going to be repaved three times before you pay them off."
Before it's here, it's on the Bloomberg Terminal.
LEARN MORE