British Airways Seeks Brexit Tourism Boost as Ryanair Downbeat
By and
IAG pledges to keep jobs and assets in U.K., maintain capacity

Discount rival predicts drop in fares, freezes fleet growth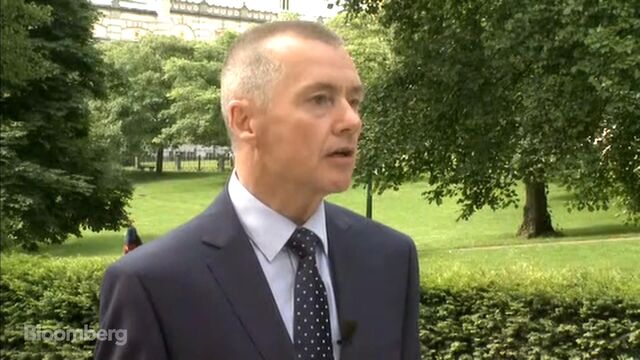 British Airways owner IAG SA predicted a surge in inbound tourism spurred by a weakening of the pound after the U.K.'s decision to quit the European Union, just as discount rival Ryanair Holdings Plc said the Brexit vote is likely to depress demand and force carriers to cut fares.
IAG doesn't plan to eliminate jobs or move assets away from Britain in the wake of the Brexit vote, and there will be no significant capacity cuts or fare discounting, Chief Executive Officer Willie Walsh said Tuesday in an interview in Brussels with Bloomberg Television.
"The U.K. now becomes more attractive for tourists," Walsh said. "Corporates were pausing on the uncertainty, and now we don't expect them to bounce back as we would have expected had the vote been 'Remain.' In the long run, such demand effects tend to even out."
Ryanair CEO Michael O'Leary, interviewed at the same A4E industry group event, offered a starker analysis, saying he expects sterling to be weak for the next six to 12 months, compelling the low-cost carrier to "keep lowering fares to keep people flying." Plans for growth in the U.K. will be put on hold, with 50 new planes due for delivery this year to be deployed in other markets.
Complex Picture
Carolyn McCall, who heads EasyJet Plc and also spoke at the Brussels gathering, came down somewhere in the middle, saying that while there may be some short- or mid-term "turbulence," demand remains strong.
Airlines are still struggling to evaluate exactly how June 23's referendum will impact their industry. While the weaker pound might stimulate visits to the U.K., Ryanair is concerned that it will reduce the ability of Britons to fund vacations. An economic slowdown could undermine travel further, while a relocation of offices from London to continental Europe by key employers would damage one of the world's strongest business-travel markets.
London-based IAG, Europe's second-largest airline, cut its 2016 earnings outlook Friday because of the likely impact of exchange-rate changes on profit translation, rather than concerns about a possible slump in sales, Walsh said.
Kerosene Costs

"The principal impact will be currencies," the executive said, with IAG -- which also owns Iberia and Vueling of Spain and Ireland's Aer Lingus -- set to suffer a hit from converting sterling profits into euros, in which it reports.
"We are also short about $2 billion because we buy fuel in U.S dollars, so our fuel bill will be higher on the higher oil price and the weaker pound," he said. "These effects are very technical, mechanical."
Even after IAG's guidance revision, operating profit is forecast to show "significant" growth this year, while failing to match 2015's 70 percent increase, as previously targeted.
"We still will make record profits in 2016," Walsh said. "The demand environment continues to be healthy. Our strategy remains the same. Tactically, we'll do some things differently."
Downside Risk
At Ryanair, O'Leary said he sees the carrier meeting its May 23 guidance for 13 percent earnings growth in the 12 months through March 2017, while adding that any change "is likely going to be to the downside." Discount carriers rely on more regional markets that network operators like IAG, which can bank on global flows to help fill seats when times are tough locally.
All the same, a 20 percent share-price decline since the referendum that's wiped 3.5 billion euros ($3.9 billion) from the company's market value is an overreaction, the CEO said.
"People will still keep flying but I think there will be a degree of uncertainty for the airline industry for the next year of two while the U.K. works out how it will exit the EU and if it remains in the single European market," he said.
Shares of IAG rebounded 6.9 percent and were priced 1.7 percent higher as of 1:07 p.m. in London. The company's value has fallen 3.8 billion pounds ($5.1 billion) since the EU vote, to 7.42 billion pounds. Ryanair, which while based in Dublin counts the U.K. as its biggest market, traded 3.5 percent higher, and EasyJet, which has its headquarters in Luton, England, was up 4 percent.
Walsh said that the turmoil created in the airline industry by the U.K. vote might even present IAG -- as International Consolidated Airlines Group SA is known -- with takeover opportunities, while declining to specify which companies he had in mind.
The Irishman, who as a U.K. resident was entitled to vote in the referendum, said he had backed "Remain" and that the "Leave" victory means "a vision of the U.K. trading without boundaries will now be difficult to deliver." While the debate was "a little bit toxic" and damaging to Britain's reputation, he said democracy had been served. "We've got to respect the decision and move on."
EasyJet's McCall said the key issue now is for passengers "to continue to receive the benefit of the current liberalized and deregulated aviation market."
Before it's here, it's on the Bloomberg Terminal.
LEARN MORE