Sorry Shanghai, There's a New China Stock Exchange King
Bloomberg News
The Small and Medium Enterprise Board first hit No. 1 in May

Turnover on Shanghai bourse has plunged 86% in past 12 months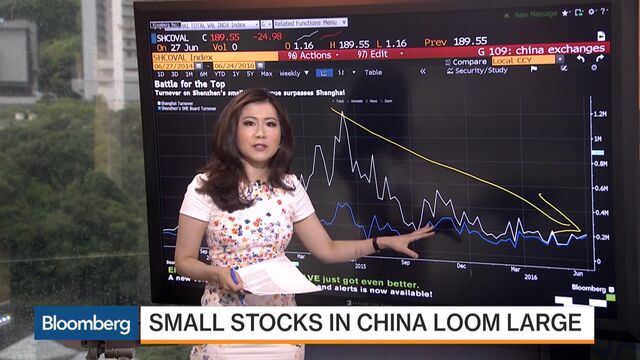 The Shanghai Stock Exchange's reign as the premier venue for trading Chinese equities is coming to an end.
For the first time in at least a decade, China's oldest bourse has lost its position at the top of turnover rankings for the nation's four major trading venues. The new leader is Shenzhen's Small and Medium Enterprise Board, a 12-year-old market for mostly non-state companies that first climbed to No. 1 on May 17. It has since jockeyed for position with the Shanghai, with both bourses handling about 180 billion yuan ($27.1 billion) of trades on average over the past five days.

The development marks a dramatic reversal of fortune for Shanghai, where a speculative mania propelled trading values to all-time highs just 12 months ago. Activity has since slumped by 86 percent as investors shunned government-run firms in favor of "new economy" stocks that dominate the SME board. In one example of how extreme the shift has become, turnover in Beijing Sevenstar Electronics Co., a little-known technology company, is now twice as high as that of Industrial & Commercial Bank of China Ltd., a state-owned lender whose market value is more than 100 times larger.
"Investors are dumping Shanghai as that's dominated by traditional sectors, which don't have much growth potential," said Dai Ming, a money manager at Hengsheng Asset Management Co. in Shanghai. "The market focus is on the small-caps."
For more on Asian financial hubs, click here.
The SME board's rise reflects the enthusiasm for thematic investing among China's 107 million individual stock traders, who often crowd into sectors with compelling growth stories when the broader market is falling. Today, those hot industries include lithium battery makers, manufacturers of organic light-emitting dioxides and e-commerce firms.
"The SME board has more stocks available for specific thematic investments," said Ken Chen, an analyst at KGI Securities Co. in Shanghai. "Given China's economy isn't going to pick up soon and traditional sectors are in the doldrums, the favoring of SME stocks may last for a while."
It helps that SME shares are more volatile than their Shanghai counterparts, a characteristic that attracts speculators keen on short-term trades. Price swings in the SME Board Index over the past 30 days were 53 percent more extreme than those of the 1,145-member Shanghai Composite, where fluctuations have been contained by state intervention in large-capitalization stocks like ICBC.
High turnover doesn't always translate into good performance. The SME index has dropped 15 percent this year after rallying 75 percent in 2015 on optimism that China would transition to an economy fueled by services and consumer spending. Benchmark gauges for Shanghai and Shenzhen's main venue have retreated 18 percent and 16 percent in 2016, respectively. The SME index rose 1.2 percent on Tuesday, while the Shanghai gauge gained 0.6 percent.
Few Spotlights
Investors have focused on pockets of strength on the SME board, which has 790 companies with an average market value of $1.7 billion. 
Leading gainers on the venue include Guangzhou Tinci Materials Technology Co., which makes electrolysis for lithium batteries used in electrical vehicles, and Haoxiangni Jujube Co., which owns a leading online retailer of nuts. Guangzhou Tinci's average daily turnover for this year was almost five times that of 2015, while Haoxiangni's was 50 percent higher. Both stocks have gained more than 130 percent in 2016.
"With the market having very few spotlights, it's a result of crowded trading as investors seeking absolute returns are huddling together to hold these hot stocks," said Fu Jingtao, a strategist at Shenwan Hongyuan Group Co. in Shanghai. "But for the other sectors on the SME board, we haven't seen much fund inflows."
Still, volume on the SME market has been busy enough to dwarf the other two trading venues in Shenzhen. Turnover was 130 percent higher than the city's main exchange on Friday and 46 percent above the ChiNext, a market for new economy stocks that has 512 companies.
While the SME board and Shanghai may compete for the top spot in coming months, the small-cap bourse represents the future of China's equity markets, Fu said.
"In the short term, the trend may not last," he said. "In the longer cycle, the hope remains that the new economy will be the future of trading."
— With assistance by Shidong Zhang
Before it's here, it's on the Bloomberg Terminal.
LEARN MORE