business
Crescent Sees $11 Billion Kurd Gas Claim Decided This Year
By
U.A.E.-based company seeks damages over Middle East gas deals

Separate hearing in Iran arbitration case set for October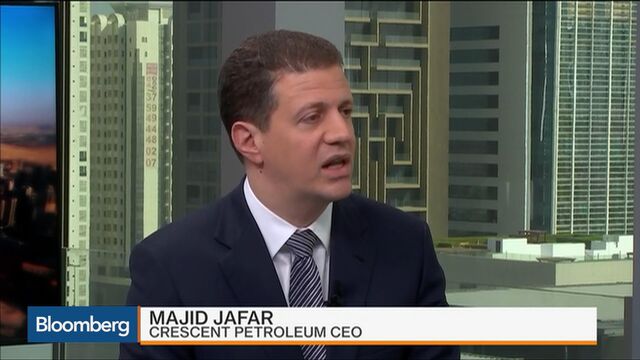 Crescent Petroleum Co., the United Arab Emirates-based oil and natural gas producer, expects its $11 billion arbitration case against the Kurdistan Regional Government in Iraq to be decided later this year. 
The company is scheduled for a hearing in September at the London Court of International Arbitration in its case against the KRG over gas sales in the Kurdish region, Crescent Chief Executive Officer Majid Jafar said Sunday in an interview in Dubai. A separate hearing in an arbitration case against Iran's state oil company has been delayed by one month until October, he said. Both cases could result in cash awards for Crescent and its listed affiliate Dana Gas PJSC. Crescent has a 19 percent stake in Dana Gas, according to data compiled by Bloomberg.
"The door is always open" to settlements prior to the end of either arbitration, Jafar said. "We do have a dialog with the KRG. A more positive spirit of engagement has been restored." The company has also had talks with officials from Iran, he said. 
Regional Reach
Crescent and Dana Gas are pursuing $11 billion in damages against the administration of Iraq's semi-autonomous Kurdish region for overdue payments and contractual issues that the companies say have hurt their business, according to a December statement from Dana Gas. Jafar declined to quantify the damages Crescent is seeking from Iran in its dispute over what the company says is an unfulfilled contract to buy Iranian gas and ship it by pipeline to the U.A.E. Crescent produces gas and liquid fuels in Egypt, Iraq and the U.A.E. to meet demand from power plants and industries.
Crescent and its partners are currently being paid for all the liquid fuels they pump and sell in Iraq's Kurdish enclave but not for any gas they produce there, Jafar said. Dana Gas reported $733 million in overdue receivables owed by the KRG at the end of the first quarter.
Crescent's hearing in the case against the National Iranian Oil Co. has been delayed for procedural reasons, Jafar said, without elaborating. The company signed its contract with NIOC more than a decade ago.
Crude Outlook
Crude prices will improve this year as supply becomes more aligned with demand, Jafar said in an interview with Bloomberg Television on Sunday. The U.K.'s decision to leave the European Union won't have a lasting effect on crude prices and London will remain a center for international oil and gas companies, he said. 
Oil fell 4.9 percent in New York and London Friday after the U.K. voted to exit from the 28-member bloc. Benchmark Brent crude declined as much as 2.2 percent on Monday and traded at $47.64 a barrel at 2:38 p.m. in London.
"We'll start to see oil prices creeping back up," Jafar said. "I wouldn't be surprised if we even hit $60 this year."
Crude has gained about 30 percent this year on supply disruptions from Nigeria to Canada and falling production in the U.S. Members of the Organization of Petroleum Exporting Countries have produced crude without limits since 2014 in an effort to maintain market share and force higher-cost suppliers such as U.S. shale to rein in production.
"If we look at the supply-demand balance, it's actually tightening," Jafar said. "That will continue as the year goes forward."
— With assistance by Yousef Gamal El-Din
(
Updates crude oil price in eighth paragraph.
)
Before it's here, it's on the Bloomberg Terminal.
LEARN MORE