Brexit Adds $380 Billion to Global Negative-Yielding Bond Pile
by
Investors seek haven debt after U.K. votes to quit EU

German benchmark bonds due in up to 10 years yield below zero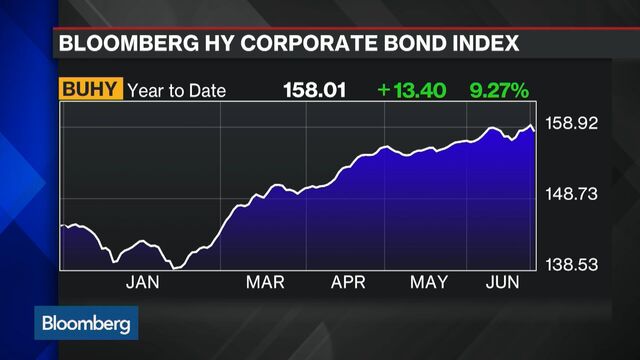 A flight to safer assets by global investors after Britain's decision to the quit the European Union has added $380 billion to the pile of negative-yielding government bonds.
There are now $8.73 trillion of securities with yields below zero globally, according to the Bloomberg World Sovereign Bond Indexes, up from $8.35 trillion before the vote. In the euro-area, German benchmark bonds with maturities out to 10 years are negative, while Japanese 10-year yields reached a record-low of minus 0.215 percent on Friday.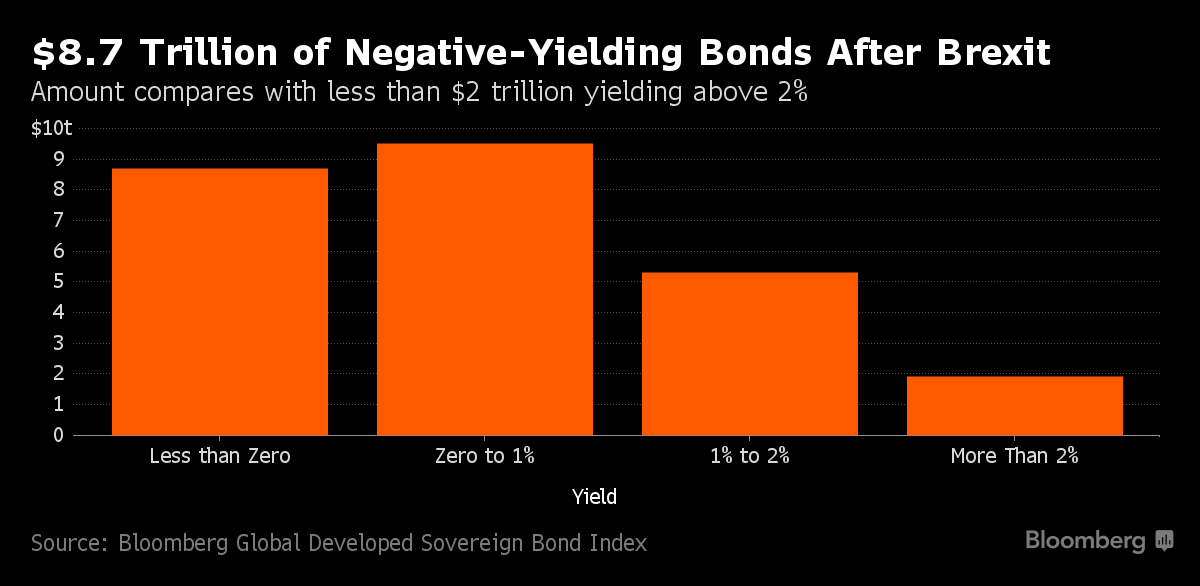 As a victory for Brexit campaigners became clear, it triggered market chaos with the pound suffering its worst decline on record, U.K. bank stocks plummeting and gold prices rallying. Already signs of economic and political turmoil have emerged as U.K. Prime Minister David Cameron plans to step down in October, delaying exit negotiations, while European leaders are calling for talks to begin immediately.
"It looks like political risk will dominate the second half, with riskier assets losing and safe havens gaining," said Piet Lammens, head of research at KBC Bank NV in Brussels. "Big bets from funds probably still need to be put."
QuickTake Negative Interest Rates
German 10-year yields fell to as low as minus 0.17 percent on Friday, the lowest since Bloomberg began collecting the data in 1989, while two-year yields dropped to a record minus 0.74 percent. The 10-year yield was at minus 0.08 percent as of 7:40 a.m. London time on Monday.
For a look at how investors got the Brexit vote so wrong, click here.
Brexit is among global risks that have sent yields so low on Europe's core bonds. Signs of slowing growth around the world, and particularly in emerging markets, encouraged the Federal Reserve to delay raising interest rates in the U.S. The fallout from the U.K. leaving the world's biggest single market has raised speculation it will jeopardize the European project as a whole if other nations seek to hold similar referendums.
The decline in bond yields also poses a challenge to the European Central Bank's quantitative-easing program. Under the ECB's restrictions, it can't purchase securities with yields below its deposit rate of minus 0.4 percent. About half of German bonds, which make up the biggest proportion of buying, are now ineligible for purchases, based on the Bloomberg German Sovereign Bond Index.
Before it's here, it's on the Bloomberg Terminal.
LEARN MORE