Will E-Sports Ever Work on TV?
With eLeague, TBS is going to find out.
By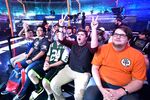 Spend a day at the 10,000-square-foot Atlanta studio that Turner Sports built to house its new competitive video gaming show, eLeague, and you'll come away convinced that e-sports are a legitimate activity with legitimate fans and the potential for a legitimate market share of the TV-sports universe. You know who isn't convinced? The camerapeople. They're used to covering live athletics in which players, you know, move. One of them jokes in the bathroom, "S---, I could go on the roof and have a cigarette, and no one would notice."
This has long been the dilemma of bringing e-sports to television: How do you make an entertaining program out of people sitting in one place for hours at a time? The trick, says Craig Barry, Turner Sports' chief content officer, is less about getting e-sports going than moving out of its way. "This is a community that already exists," he says. "We want to help expand it, not fix it." With a three-hour showcase broadcast every Friday night on TBS (and about four hours of daily streaming on online gaming broadcaster Twitch Interactive), eLeague is the highest-profile corporate plunge into competitive gaming to date.
Here's how it works: Twenty-four teams, split into six divisions (collectively, the eLeague), play Counter Strike: Global Offensive. Each team's five players work as a platoon to shoot their opponents' avatars dead in 20 one-minute-and-fifty-five-second rounds and earn fake money to buy more sophisticated and lethal weapons. The TBS show is the final round of a divisional tournament played on Twitch throughout the week. Each episode's winning team gets a spot in the eLeague playoffs, with the ultimate champions standing to take home $390,000 from a $1.4 million pool when the show concludes on July 30. Its May 27 debut averaged 509,000 viewers—not horrible for a Friday night—and 4.3 million people streamed games on Twitch during the week.
Even OK audience numbers haven't stopped some people, including Turner Sports employees, from throwing shade at competitive video gaming: Inside the NBA's Kenny Smith has already declared it "not a real sport." Fox Sports radio dope Colin Cowherd regularly calls participants "nerds." Barry, however, has been eLeague's champion, getting onboard early to spearhead the project even though he says he was "never a gamer." He compares the broadcast to the early-aughts boom in TV poker. "It's something people know, but we're showing them how to watch it better," he says.
Many eLeague players are already star gamers. One, "Tarik," who plays for Team CLG (Counter Logic Gaming), says having his matches on TBS is no big deal, because "I've had a million people watch me play before" on Twitch. But for a viewer unfamiliar with the gaming world, the players are just pasty selfies floating on a screen—it's the game itself, plus fast-talking announcers with well-lubricated vocal cords, that does all the work. In one early match, an underdog team mounted a rally to come back from a four-round deficit—then ran out of cash, leaving it underequipped, helpless, and, eventually, totally annihilated. It was thrilling.
Barry says he's not too worried about how quickly the TBS audience catches on—though ratings have grown each week so far, and executives at Turner have already greenlighted a second season. The TBS show "is for the curious fan, but we're serving the loyalists," he says. That may be a smart move: Gaming analysis firm Newzoo projects that revenue from e-sports will rise 43 percent from 2015 to $463 million this year. And if you think e-sports are absurd, well, all sports are absurd. Take a piece of wood, hit a piece of cowhide, run around in a circle. Throw a piece of rubber through a ring. Hit a small frozen disc with a stick into a net … while skating. It just takes exposure to make it seem normal.
Before it's here, it's on the Bloomberg Terminal.
LEARN MORE