University Affirmative Action Upheld by U.S. Supreme Court
By
Justices back Texas policy aimed at fostering diversity

Kennedy joins high court's liberal wing in 4-3 decision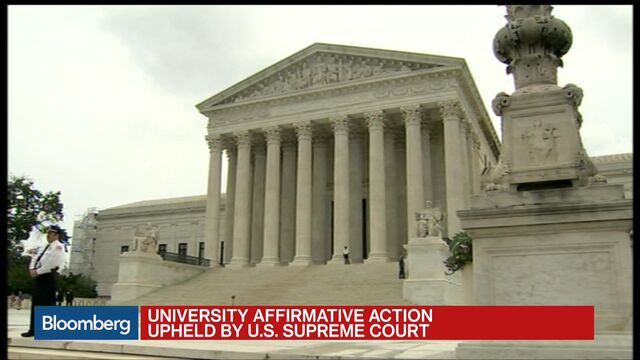 A divided U.S. Supreme Court gave a surprise victory to affirmative action in college admissions, upholding a policy that the University of Texas says is crucial for fostering campus diversity.
The justices, voting 4-3, ruled against Abigail Fisher, a white woman who said she suffered unconstitutional discrimination when she was rejected by the school in 2008.
Opponents were hoping the court would use the case to put new limits on racial preferences in college admissions. Instead, Justice Anthony Kennedy, a critic of affirmative action in the past, joined the court's liberal wing to uphold the plan.
The ruling came from an unusual seven-member court that was missing both Justice Antonin Scalia, who died in February, and Justice Elena Kagan, who was recused because she had been involved in the litigation as an Obama administration lawyer.
Texas has a unique hybrid admissions policy. The state's Top Ten Percent Law, enacted in 1997 in response to a court decision, requires the school to admit three-quarters of its freshman class each year solely on the basis of high school class rank.
That system, while race-neutral on the surface, ensures a significant number of minorities because it guarantees slots to students at predominantly Hispanic and black schools.
For a QuickTake on why affirmative action keeps ending up in the court, click here.
The university directly considers race as a factor only in admitting the rest of the class, adding what Texas says is an important additional component of diversity. The university's current freshman class is 22 percent Hispanic and less than 5 percent black.
Writing for the majority, Kennedy said that diversity is not "a goal that can or should be reduced to pure numbers." Quoting from an earlier ruling, he said a university "may institute a race-conscious admissions program as a means of obtaining the educational benefits that flow from student body diversity."
Kennedy said that universities, including Texas, have a continuing duty to refine their policies.
Chief Justice John Roberts and Justices Clarence Thomas and Samuel Alito dissented. Alito took the unusual step of reading a summary of his dissent from the bench.
'Remarkably Wrong'
"Even though UT has never provided any coherent explanation for its asserted need to discriminate on the basis of race, and even though UT's position relies on a series of unsupported and noxious racial assumptions, the majority concludes that UT has met its heavy burden," Alito wrote. "This conclusion is remarkable -- and remarkably wrong."
The ruling elated proponents of affirmative action, reaffirming the constitutionality of race-based admissions in a case that many had expected would produce new limits.
"I'm pleased that the Supreme Court upheld the basic notion that diversity is an important value in our society, and that this country should provide a high-quality education to all our young people, regardless of their background," President Barack Obama said at the White House.
'Sad Step Backward'
University of Texas President Gregory L. Fenves said he was "thrilled and gratified" by the ruling, adding that diversity provides "educational benefits for all students."
"Race continues to matter in American life," Fenves said in an e-mailed statement. "We must make sure all of our students are able to excel in the wider world when they leave campus -- educating them in an environment as diverse as the United States is one of the most effective ways to do so."
Ed Blum, the president of the Project on Fair Representation and the man who spearheaded Fisher's lawsuit, called the ruling "a sad step backward for the original, colorblind principles" behind the nation's civil rights laws.
The high court issued a compromise ruling in the case in 2013. That 7-1 decision said universities must prove that their means of attaining diversity meet a demanding constitutional test known as "strict scrutiny." Under that test, the university must show its policy is narrowly tailored to meet a compelling interest.
A federal appeals court then took another look the policy and said it met the strict scrutiny test.
'Factor of a Factor'
The fact that the matter was decided by a seven-member Supreme Court means "it's absolutely going to be tested again," said Misty Cone, an attorney in Houston with Godwin PC.
The Texas university's use of the Top Ten Percent Law to admit three-quarters of its students meant that race became "a factor of a factor of a factor" to help achieve the diversity goal, Cone said. "The ideal way to employ affirmative action is how UT does it," she said.
Still, she pointed to the experience of the rival university Texas A&M, which uses the Top Ten Percent rule and minority outreach efforts to admit its entire freshman class without use of affirmative action. Cone cited figures compiled by the Texas Tribune showing that the two universities' 2015 freshman classes had nearly identical shares of black or Hispanic students -- 23.4 percent for the University of Texas and 23.1 percent for Texas A&M.
The case is Fisher v. University of Texas at Austin, 14-981.
Before it's here, it's on the Bloomberg Terminal.
LEARN MORE