Pound Jumps Above $1.50 as 'Remain' Seen Winning EU Referendum
by and
Currency climbs to highest level versus dollar since December

Polls released Thursday show pro-EU campaign have lead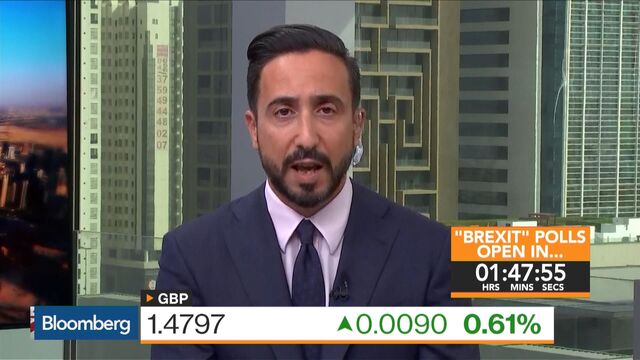 The pound climbed above $1.50 for the first time since December amid speculation that U.K. voters opted to remain in the European Union.
Sterling extended gains from Thursday that came as opinion polls conducted before voting started showed a lead for the ''Remain'' camp, adding to speculation the U.K. would stay in the 28-member organization. Voting closed at 10 p.m. London time and the first official results are expected as soon as midnight. A YouGov Plc survey conducted on the day of the vote showed a 52 percent share for the status quo.

The pound has swung vigorously since the start of the campaign in February, acting as a barometer for sentiment and reflecting the side of the debate in the lead. It dropped to a seven-year low that month when former London mayor Boris Johnson announced his support for Brexit. Just last week it was as low as $1.4013 when the ''Leave'' camp appeared to be ahead.
"The best guess seems to be that it will be 'Remain,'" said Dan Fuss, vice chairman of Loomis Sayles & Co., which oversees $229 billion. "If that's the case, while I may run a little short of sleep tonight, I anticipate sleeping blissfully for at least the next few months. That would be a wonderful outcome, in my opinion, not only for markets but for many geopolitical reasons. Because of that, everybody benefits. I do think it would be a positive for investor confidence as well."
Sterling rose 0.9 percent to $1.5009 as of 10:51 p.m. London time, after touching $1.5018, the highest level since Dec. 16.
The pound has shrugged off losses against the dollar and is no longer the worst-performing major currency this year. The recent rally could see limited upside for the pound in an eventual vote to stay in the trading bloc. Just 29 percent of analysts surveyed by Bloomberg earlier this month expected the pound to trade above $1.50 the day after a "Remain" victory, with the median forecast for a range between $1.45 and $1.50 . Meanwhile, Brexit could see the pound plunge below $1.35, the lowest since the 1980s, according to most economists in the survey.
Prime Minister David Cameron, Bank of England Governor Mark Carney and the International Monetary Fund's Christine Lagarde are among global leaders to warn against the risk of the U.K. of quitting the world's biggest single market.
Before it's here, it's on the Bloomberg Terminal.
LEARN MORE