Indonesia's Widodo Rebuffs China With Natuna Islands Visit
by , , and
President travels to Natuna Islands, site of recent tensions

Beijing has sent coast guard to area to assert maritime rights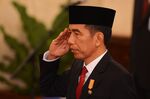 President Joko Widodo flew to Indonesia's Natuna Islands to underscore his country's sovereignty over the surrounding waters after China outlined a claim over nearby fishing grounds.
The trip by Widodo, also known as Jokowi, comes a week after Indonesia's navy detained a Chinese vessel fishing off the islands and arrested seven fishermen. China's foreign ministry said Monday that China has no territorial sovereignty dispute with Indonesia, "yet the two countries have overlapping claims for maritime rights and interests over some part of the South China Sea."
"The ability of Indonesia's military and maritime security agency to guard the sea must be improved," Jokowi said aboard the KRI Imam Bonjol, a warship that patrols the waters around the islands. He was joined by Coordinating Minister for Security Affairs Luhut Panjaitan, who said Jokowi may encourage some of the 6,000 vessels now fishing in the Java Sea to move north to waters around Natuna rather than leave the fishing grounds to "other" people.
Widodo asked Luhut in June to prepare a common stance on Indonesia's South China Sea policy so ministers would speak with one voice on the issue.
Rear Admiral A. Taufiq R., commander of Indonesia's Western Fleet, said Tuesday that more Chinese fishing boats have been detected in the vicinity of the islands this year. "We need to resolve this issue. If not, they will make a one-sided claim to the waters," he said.
Since Widodo's election in 2014, Indonesia has become more active in detaining fishing boats, and in some cases blowing them up. Indonesia has detained 57 ships for illegal fishing in the Natuna area this year, according to Susi Pudjiastuti, minister for maritime affairs and fisheries. Of those, three were Chinese boats and 49 were Vietnamese.

China has sparked tensions with nations such as Vietnam and the Philippines by asserting claims to more than 80 percent of the South China Sea based on a nine-dash-line map first published in the 1940s. In passports issued in 2012, China's line encroaches on the exclusive economic zone that Indonesia derives from the Natuna Islands.
China's Communist Party-run Global Times newspaper said Wednesday that the 200-nautical-mile exclusive economic zone that Indonesia claims around the islands overlaps with waters within the nine-dash line by 50,000 square kilometers (1,900 square miles). "It is no easy task for today's China to safeguard its sovereignty in the South China Sea and defend the nine-dash line," the newspaper said.
For more on Asia's territorial disputes, click here.
Indonesia has been careful not to recognize the claim outlined on the map, which might lend legitimacy to China's assertions. In 2010, Indonesia made a statement to the same United Nations body to which China had submitted its nine-dash map, saying China's claim "clearly lacks international legal basis."

Widodo's public irritation at the presence of Chinese fishing boats in the area -- along with that country's coast guard -- will likely draw Indonesia closer to other Southeast Asian nations who dispute Beijing's claims over the South China Sea. In March, Indonesia detained the crew of a fishing boat after a scuffle involving a Chinese coast guard vessel.
At the same time, Widodo wants to keep relations with China from deteriorating. China overtook the U.S., Singapore and Japan in the past decade to become Indonesia's largest trading partner with $49.2 billion in transactions last year, up from $16.3 billion in 2006. Widodo has also highlighted Indonesia's need to invest in infrastructure to attract overseas investment and boost growth.
Before it's here, it's on the Bloomberg Terminal.
LEARN MORE