Cameron Joins Gordon Brown Making Final Appeal to Avert Brexit
by
Premier tells cross-party Remain rally to 'put jobs first'

U.K. public split evenly on eve of EU referendum, polls show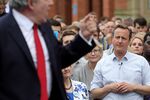 U.K. Prime Minister David Cameron joined his predecessor Gordon Brown in a final, cross-party appeal to voters to reject a so-called Brexit when they cast ballots Thursday in a referendum on the country's EU membership.
Cameron urged undecided voters to "put jobs first, put the economy first, put your children's future first, put our future first as a country," as he addressed a rally at the University of Birmingham on Wednesday evening. He was joined there by politicians from other parties -- Liberal Democrat leader Tim Farron and the country's sole Green member of Parliament, Caroline Lucas -- as well as representatives of business, trade unions and the medical profession.
"The sort of Britain I know, it doesn't walk away, it doesn't quit, it stays and it fights," the premier said after arriving aboard the "Remain" campaign's battle bus. 
The event was designed to showcase broad support across political and class divides for continued membership of the EU, in the face of a "Leave" campaign whose main message about the need to control immigration has struck a chord with the public. A day before the vote, polls showed the two camps neck-and-neck.
The four-month referendum campaign has polarized the nation and descended into name-calling at times. The divisions are especially stark inside Cameron's Conservative Party, with senior ministers playing leading roles in both camps. By contrast, most top Labour officials have sided with Remain.
'One Word'
Brown attacked the "Leave" campaign over recent posters that played on concerns about immigration. He also invoked the pro-EU Labour lawmaker Jo Cox, who was murdered last week after building up a reputation as a defender of refugees and immigrants.
"The Britain that I know is better than this Britain of debates, of insults, of posters," Brown said. "The Britain that I know is the Britain of Jo Cox, the Britain where people are tolerant and not prejudiced."
The former premier's impassioned speech, in which he evoked Shakespeare as well as European conflicts through the ages, earned him praise from Cameron, whose Conservatives ousted Brown's Labour Party in the 2010 general election.
"Wasn't that a belter of a speech from Gordon Brown?" Cameron asked at the start of his own speech.
Those warm words for a once bitter political foe played into Cameron's closing argument.
"If you want to try and boil it all down to one word, for me it would be this: together," Cameron said. "There is no problem that we are facing in our world today, or facing in our country today, that isn't helped by working together."
Before it's here, it's on the Bloomberg Terminal.
LEARN MORE