Iran Inflation at 25-Year Low May Spur Rate Cut to Boost Growth
by and
Price growth data comes as banks lower 1-year deposit rate

Investment environment boosted by lifting of nuclear sanctions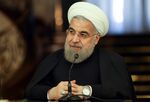 Iranian inflation eased into single digits for the first time in a quarter century, delivering on a commitment made by President Hassan Rouhani and creating room to lower borrowing costs that have stymied growth.
The annual inflation rate fell to 9.5 percent from 10.2 percent in the Iranian calendar month ended June 20, the official Islamic Republic News Agency cited Vice President Mohammad Bagher Nobakht as saying on Tuesday. Banks including the state-run Bank Melli Iran reduced their one-year deposit rate to 15 percent from 18 percent.

Sanctions imposed on Iran over its nuclear program curtailed oil sales, tipping the Islamic Republic into recession and sending inflation to peak at around 40 percent. While Rouhani succeeded in damping price growth with higher interest rates, the policy left the economy starved of investment and struggling for growth, according to Kiyan Zandiyeh, head of Iran investments at Sturgeon Capital in London.
"Essentially it sucks the economy dry," Zandiyeh said in an e-mail. "Making money when you have to borrow at nearly 30 percent is not easy. A lowering of interest rates goes a long way to kick-starting economic activity."
Central bank Governor Valiollah Seif said in May that Iran hadn't had single-digit inflation in 25 years and predicted that the target would be reached in the summer months. Last week, he hinted that a fall in inflation would be followed by an interest rate reduction.
'Acceptable'
"It's usually accepted for interest rates to be 1-2 percent higher than the inflation rate, and serious undertakings are in place to have interest rates be in line with this," the Iranian Students' News Agency cited Seif as saying on June 15. "The central bank believes that any method must be used to change interest rates to an acceptable level."
Since world powers and Iran agreed an accord which removed most trade and finance restrictions in return for nuclear curbs, crude exports have risen almost to pre-sanctions levels and global companies have signed deals.
Lower inflation and interest rates will add to that momentum by encouraging capital investment by companies that have struggled to secure reasonable financing, according to Mona Hajialiasghar, chief operating officer at Kardan Investment Bank. Money will also probably flow from savings accounts into property and equity markets, she said.
"But I think we need a few months to see the full impact on the economy, and it's also important than some structural developments in the economy happen alongside this," she said.
Before it's here, it's on the Bloomberg Terminal.
LEARN MORE