Personal Finance
John Oliver vs. Congress: Which One Do You Trust With Your Retirement?
Advocates of the 'fiduciary rule' say it would save investors $17 billion a year. House Republicans call it 'Obamacare for financial planning.'
by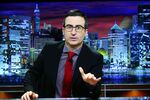 Congress is trying once again to overturn a U.S. Department of Labor rule that tightens the regulations on financial advisers, as the U.S. House of Representatives prepares to vote Wednesday on the red hot "fiduciary rule."
In one corner is House Speaker Paul Ryan. "Bureaucrats in Washington, D.C., have no business getting between you and your financial planner," the Wisconsin Republican said in April, the last time the House took up the rule, which Ryan and other Republicans call "Obamacare for financial planning."
In the other corner is President Barack Obama, many retirement experts, and, as of earlier this month, comedian John Oliver. Advocates say the rule, by requiring financial advisers to put their clients' interests first when handling retirement accounts, will help protect savers from conflicts of interest that cost them $17 billion a year.
Oliver devoted 20 minutes of his show, Last Week Tonight, to the rarely funny topic of retirement planning. He pointed out that most active fund managers have trouble outperforming a stock-picking cat. He enlisted comedian Billy Eichner to shout basic investment advice in people's faces and showed the cumulative weight of high fees by trapping actress Kristin Chenoweth under a pile of giant dominoes.
The advice was solid, if simple: Start saving now. Use low-cost index funds. Gradually switch from stocks to bonds as you get older. Try to keep your fees like your milk, under 1 percent, or risk getting crushed like Chenoweth.
And, Eichner loudly explained, look for financial advisers who are "fiduciaries," required to put their clients' interests first. Oliver warned, correctly, that many people who call themselves "financial advisers" aren't fiduciaries. Instead, they often have an interest in loading up their clients with high-fee, low-performing products, boosting their own paychecks in the process. It's as if diners at restaurants needed to verify that their waiters won't contaminate their soup before serving it, Oliver said, using more colorful language.
Members of Congress say they support a fiduciary rule, in theory. But they're opposed to this one, arguing that it would raise costs for advisers, which they'll pass on to retirement savers.
"The last thing Washington should be doing is making it harder for working families to save and invest, but because they took their my-way-or-the-highway approach, we now have a rule that will do exactly that," U.S. Rep. Phil Roe, a Tennessee Republican, said in April.
Wednesday should be anticlimactic. Based on Congress's past votes on the issue, Democrats have more than enough votes to sustain Obama's June 8 veto of Congress's resolution blocking the fiduciary rule. Wall Street's best remaining chance may be one of several lawsuits filed against the fiduciary rule in the last month.
Meanwhile, investors have moved on from the political debate, to the extent they ever knew it was happening. Ryan, Roe, and other Republicans are defending a status quo that is rapidly disappearing. Investors are already fleeing non-fiduciaries, and many brokers are voluntarily taking on a fiduciary duty. Cheap index funds are being flooded with new money, while expensive actively managed funds shrink.
Crucially, financial firms are rushing to build cheaper alternatives for cost-conscious investors. The idea is to use technology to efficiently offer investment advice that puts the client's interests first. Anything else now seems ridiculous.
Before it's here, it's on the Bloomberg Terminal.
LEARN MORE