Bookies Say It's Almost All Over as Gamblers See No Brexit
by
Gamblers pour money on U.K. to stay in the European Union

One gambler places 315,000-pound bet on Brexit rejection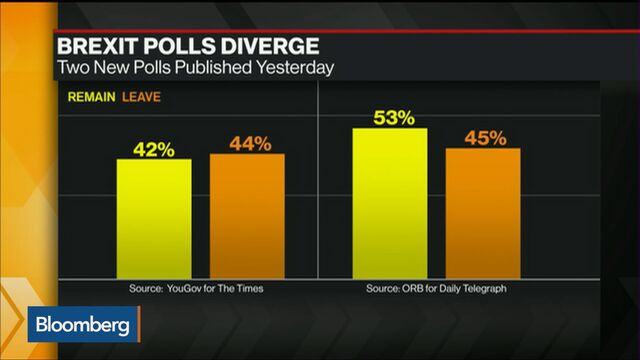 Bookies and gamblers are strengthening in their conviction that the U.K. will opt to remain in the European Union, as polls show a swing away from a so-called Brexit.
QuickTake Will Britain Leave the EU?
Ladbrokes Plc said Tuesday that the odds on a "Remain" vote had shortened to a 2/9 chance, indicating an 82 percent probability. Brexit opponents may win with 50 percent to 55 percent of the vote, wagers on the Betfair exchange suggest.
"As far as the money's concerned, it looks like Brexit is beginning to fall at the final hurdle," Jessica Bridge, a spokeswoman for Ladbrokes, said in an e-mailed statement. The company said late Monday that some 95 percent of all referendum wagers in the previous 24 hours had been placed on voters rejecting Brexit. "Money talks, and it's one-way traffic from 'Remain' punters."

Polls released since the killing of pro-EU campaigner Jo Cox have suggested the "Remain" camp is gaining ground, producing the swing back toward the vote to stay that bookies and gamblers anticipated before her death. One gambler has wagered 315,000 pounds ($463,000) on the U.K. staying in the EU, Betfair said.
"This market continues to mimic the pattern of the Scottish referendum, where historical confidence in the eventual 'No' vote slipped slightly 10 days before referendum day only to resettle in the week of the vote," said Naomi Totten of Betfair, which places about a 76 percent probability on the U.K. opting to stay inside the EU. "The margin of victory could end up being very similar to the result of the Scottish referendum which saw a 'No' vote win with 55 percent."
Brexit on Bloomberg:
At one point last week, bookies were placing about a 40 percent chance on the U.K. voting to exit, and differences in polling results for the respective campaigns show the outcome of Thursday's vote isn't yet a foregone conclusion.
A YouGov poll of 1,652 voters for the Times newspaper published late on Monday showed "Leave" at 44 percent and 42 percent for "Remain," while a survey of 800 people by ORB for the Daily Telegraph had "Remain" at 53 percent and "Leave" at 46 percent once those unsure of voting were stripped out.
Before it's here, it's on the Bloomberg Terminal.
LEARN MORE