Schaeuble Says Deposit-Guarantee System Isn't Possible in EU Law
by
Treaty between participating states needed for system, he says

Germany insists on reducing bank risk before plan proceeds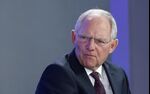 A proposed common deposit guarantee system isn't possible under European Union law, and would have to be created by a treaty of participating countries, German Finance Minister Wolfgang Schaeuble said.
The deposit-guarantee plan is part of Europe's so-called banking union, which also comprises European Central Bank supervision of euro-area banks and the Single Resolution Board housed in Brussels. Germany has resisted moving forward with the initiative until risks in the banking sector are reduced.
EU finance ministers meeting in Luxembourg on Friday acknowledged the "intention of member states to have recourse" to an intergovernmental agreement, rather than EU law, when "political negotiations" begin on the proposal. Previously, a treaty was needed to get the resolution authority over the finish line.
"Many of my colleagues share the German position," Schaeuble told reporters. "That's why we will insist on this. Those who want something else will at some stage have to change European primary law, but I think we have other problems at the moment."
The Netherlands, which holds the European Union's rotating presidency, has told member states they should consider alternatives to the common deposit-insurance system proposed last year. European Commission President Jean-Claude Juncker announced the plan in his state-of-the-union address on Sept. 9, promising a "legislative proposal on the first steps" by year-end.
'Different Opinions'
Schaeuble signaled his opposition days later, insisting that a common deposit-guarantee system would have to wait until financial-stability measures already on the books, such as common bank resolution rules, were fully implemented.
He returned to that position on Friday. "It's very clear that risks have to be reduced first before we can take the next steps toward sharing risks," he said.
Schaeuble acknowledged that there's little appetite among EU policy makers to resort once more to a treaty.
"We had this debate in the context of the Single Resolution Mechanism and the Single Resolution Fund," he said. "We know that there are different opinions on this, and we know that there isn't any great enthusiasm at the European institutions regarding intergovernmental agreements."
The treaty will be needed for common deposit insurance to ensure that EU members states "stick strictly to the legal basis" for common projects.
"We're not flexible on the question of European primary law," Schaeuble said.
Before it's here, it's on the Bloomberg Terminal.
LEARN MORE