Brexit's Angry Voices Stilled by Murder of U.K. Lawmaker Cox
By
Vitriol had proliferated on both sides before June 23 vote

Cox was advocate for refugees and for Britain remaining in EU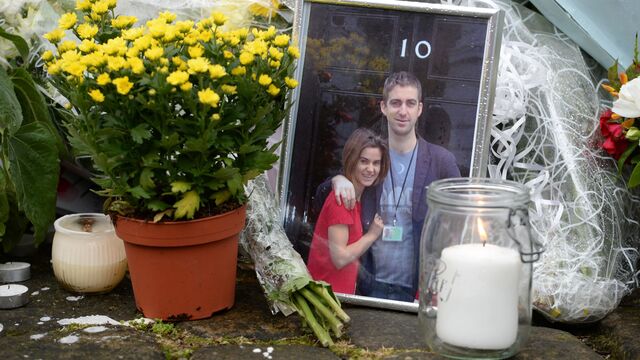 The flag over the British Parliament is flying at half-staff. On the grass on the square opposite sits a picture of Jo Cox, the Labour Party lawmaker who was killed on Thursday, surrounded by flowers and candles.
A suspect has been charged. The political debate remained silent on Saturday. The question Britons are asking themselves is whether it will resume with the same polarizing vitriol that has characterized the four-month campaign over whether the U.K. should leave the European Union.

Before Cox's death, that debate had reached levels of anger almost unprecedented in the U.K. The closeness of the polls as the June 23 referendum approached led both sides to escalate their language. Just this week, the "Remain" camp described Nigel Farage, leader of the U.K. Independence Party, as "engaging in the politics of the gutter" over a poster showing a crowd of refugees entering the EU. Earlier, former Prime Minister John Major called "Leave" leader Boris Johnson, a former mayor of London, a "court jester."
The "Leave" camp has sent its own barbs: When President Barack Obama said he wanted Britain to stay in the EU, Johnson wrote that the "part-Kenyan" president may have issues with the country's imperial legacy. One of the pro-separation groups tweeted after the massacre in an Orlando gay nightclub that Britons should "Act now before we see an Orlando-style atrocity here before too long." At one point Johnson said the EU shared Adolf Hitler's goal of unifying Europe, albeit by different means. Other "Leave" campaigners went further, mocking up German Chancellor Angela Merkel as Hitler.
For a QuickTake explainer on Brexit, click here
"We've got too used to not respecting that people may have strongly held views and come to a different result," said Liz Kendall, who like her friend Cox is a Labour member of Parliament. "On social media, you're in an echo chamber of those on your side, and those against, and being measured doesn't get you anywhere. This is what we're all thinking about, whether or not that's directly linked to this awful tragedy."
Much of the bitterness in the EU debate has been within Prime Minister David Cameron's own Conservative Party, which is split on the issue. He and Chancellor of the Exchequer George Osborne, who are campaigning for "Remain," have used the machinery of government to their best advantage, including publishing Treasury reports warning of the dangers of a so-called Brexit. 
That has upset Conservative lawmakers who favor a Brexit, saying it's not playing fair. One was quoted anonymously in the Sunday Times last month saying: "I don't want to stab the Prime Minister in the back -- I want to stab him in the front so I can see the expression on his face. You'd have to twist the knife, though, because we want it back for Osborne."
More Polarized
"There is a sense in which we've become much more polarized on a whole heap of issues at the moment," said Andrew Russell, professor of politics at the University of Manchester. "At some level there is this notion that people are fair game for public criticism and people in public life don't have any kind of right to private life at all, and I think that might be redressed."
The level of anger could be seen back in May, when Vote Leave officials learned they had been outmaneuvered by Cameron in negotiations over television debates. In a late-night statement emailed to media, Vote Leave attacked the broadcaster, ITV Plc. "There will be consequences for its future," the group said. "The people in Number 10 won't be there for long."
Similarly in the U.S., presumed Republican presidential nominee Donald Trump revoked press credentials for the Washington Post, saying it was a front for its owner, Jeff Bezos, and his company, Amazon.com Inc. He has also said he would stiffen libel laws to make it easier to take the press to court.
Trump Parallels
As with Trump, the "Leave" campaign had found that anti-establishment, anti-immigration messages were gaining traction with voters angry that globalization had left them insecure, and with the notion that migrants were pushing down wages and putting pressure on public services. As with Trump, it has been happy to stretch the truth far further than regular politicians, for instance putting up posters falsely announcing that Turkey was joining the EU.
The campaign now has a problem. Its two messages were that immigration needed to be controlled and that the referendum was a chance to strike back against establishment authority figures. The killing of a member of Parliament who had been an aid worker and campaigned for refugees makes those difficult to deploy.
The 52-year-old man charged with Cox's murder, Thomas Mair, declared "death to traitors, freedom for Britain" when asked to give his name Saturday during his first court appearance in London, according to the Press Association.
For a Bloomberg Intelligence take on Brexit, click here
Cameron, speaking on Friday near where Cox was killed, said her death showed that it was time for the country to put aside divisions. "We should value and see as precious the democracy that we have on these islands, where 65 million of us live together and work together and get on together," he said. "And if we truly want to honor Jo, then what we should do is recognize that her values -- service, community, tolerance -- the values she lived by and worked by, those are the values that we need to redouble in our national life in the months and years to come."
Any election is partly won by the side that successfully sets the question. "Remain" had already asked people if they wanted to live in "Nigel Farage's Britain." The risk for "Leave" is that after her killing, voters might decide the question is whether they prefer Jo Cox's Britain.