Aveva CEO's Deja-Vu Spurred Second Rejection of Schneider
by and
CEO Longdon speaks in interview after discussions terminated

Aveva shares tumble after trading resumes; Schneider rises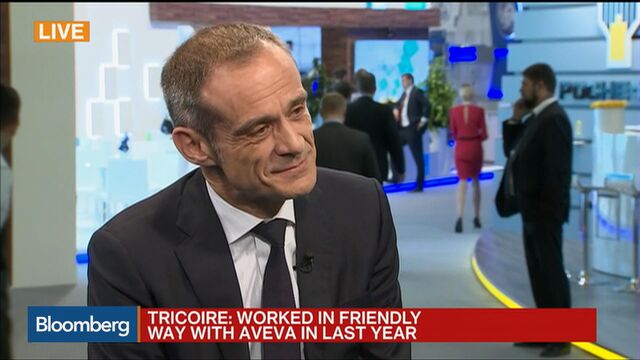 For Aveva Group Plc Chief Executive Officer Richard Longdon, it was a case of deja-vu when Schneider Electric SA unsuccessfully sought to revive takeover talks, six months after the two companies abandoned the project.
The industrial logic to the deal remains, yet so do Aveva's original concerns about combining the businesses, Longdon said in a telephone interview Wednesday, shortly after the Cambridge, U.K.-based software maker confirmed discussions had been terminated, sending its shares tumbling. A representative for Schneider Electric declined to comment.
"The company was approached by Schneider, it was similar to the last approach and the issues from the previous talks are still the same," Longdon said.
Twice now negotiations have snagged on concern that the integration costs would be too high. A Financial Times report on Monday about a revival of the discussions "didn't help talks," the CEO said, adding that he couldn't say why the French company had chosen to restart them at this time.
Aveva shares had dropped the most in six months and were trading down 12 percent to 1,624 pence at 3:27 p.m. in London while Schneider shares rose 2.3 percent to 53.92 euros in Paris trading.
Aveva had confirmed "preliminary discussions" on Monday with the French maker of low- and medium-voltage equipment based on a deal proposed last year whereby Schneider would buy a majority stake through a reverse takeover with a "significant cash payment" to Aveva.
'No Third Chance'
The plan revived one unveiled in July to bring together the companies' industrial software units and create a business that would help design and operate engineering projects from nuclear-power plants to diesel engines. That proposal would have seen Aveva receive 550 million pounds ($786 million) and issue new shares to Schneider, giving the French company 53.5 percent of the resulting entity. The talks ended by mutual consent, they said Dec. 15.
Schneider's latest failed move for Aveva has led to conflicting accounts of just how far the talks had progressed and whether the terms mooted were really much different from those discussed last time around, according to two people close to the discussions who asked not to be named because they were private. One of the people said the deal was nearly done while the other said the same hurdles remained.
In a previous interview in December after the first attempt at a deal fell apart, Longdon said untangling a business to get an agreement would have been too complicated and costly. On Wednesday, he reiterated what he had also said then, that "there is still industrial logic" in a combination with Schneider.
"Discussions collapsing for a second time tells us that there will not be a third chance," George O'Connor, analyst at Panmure Gordon, wrote in a note Wednesday, downgrading his recommendation on Aveva stock to a 'hold' rating from a 'buy'. "Aveva is left to its own devices – and the structural weaknesses in the firm's business model, as highlighted by this deal, remain unaddressed."
A slowdown in investment in industries such as oil and gas has hurt sales at the British software supplier, with Longdon deepening cost cuts. The CEO has also said he has built up the company's pipeline of potential mergers and acquisitions.
Aveva is one of Britain's digital-age success stories, and along with chip makers CSR Plc and ARM Holdings Plc, they have their origins in Cambridge, home of the university that produced scientists from Charles Darwin to Stephen Hawking. Aveva, which was developed in a government-funded computer center in 1967, introduced the world's first 3-D plant design system in 1976.
Before it's here, it's on the Bloomberg Terminal.
LEARN MORE