Steve Case's Revolution Raises $525 Million Fund to Invest Outside Silicon Valley
by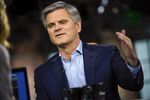 Revolution LLC, the investment firm run by AOL co-founder Steve Case, raised $525 million for a growth fund to back companies mainly based outside of Silicon Valley.
Steve Murray, who spent two decades at SoftBank Group Corp. before joining Revolution this year, will be an investing partner on the new Revolution Growth III. The fund will be led by Case and two other former AOL executives, Ted Leonsis and Donn Davis.
Washington-based Revolution pitches itself to investors as a firm with global expertise in a variety of industries, rather than a Valley-centric venture capital firm. The firm said it has raised more than $1.1 billion in total.
With the new fund, Revolution plans to make three to four investments a year of $25 million to $50 million apiece. The firm said it exceeded its fund target of $450 million, which was the size of the previous fund from 2011. It also promoted Scott Hilleboe and Evan Morgan to partner.
Before it's here, it's on the Bloomberg Terminal.
LEARN MORE