Republican Senators Lose Hope That Donald Trump Will Change
By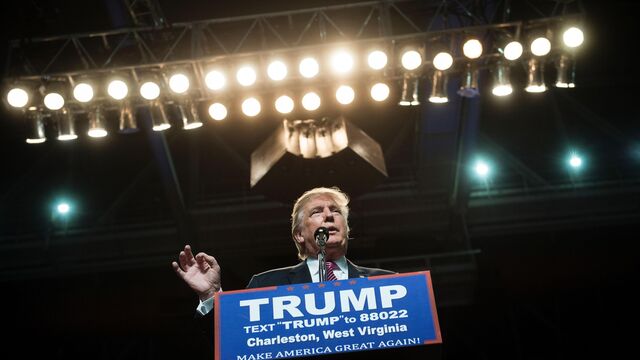 Donald Trump's response to the deadliest mass shooting in U.S. history has Republican senators losing hope that their presumptive nominee will tame his blustery rhetoric and moderate his controversial policy positions ahead of the fall election.
"You'd think that he would have pivoted by now," lamented Arizona Senator Jeff Flake.
"A lot of us, we still hope—hope springs eternal—that between now and November he'll change some of his positions. Not just the tone and the tenor, but some of his positions need to change," Flake said. "But I'm not hopeful right now."
South Dakota Senator John Thune, the No. 3 Republican, said Trump's recent statements have been "concerning" and reflect his style throughout the campaign.
"Everything he's said in the last couple of weeks has been concerning," Thune said. "I think the message has been conveyed from our members. And we're, I guess, hoping that he'll take it to heart."
Then he rolled his eyes, admitting that strategy doesn't seem to be working "at the moment."
The senators noted their regrets a day after Trump gave a speech hardening his promise to ban Muslims from entering the U.S., and also vowed to "suspend immigration from areas of the world when there is a proven history of terrorism" against the U.S. or its allies. Both proposals have been condemned by Democratic and Republican politicians, but they lie at the heart of the racial and demographic anxieties that catapulted Trump during the GOP primary.
"It wasn't the kind of response that I would expect when 50 people have perished," said Senate Foreign Relations Chair Bob Corker, according to an NBC reporter. "I continue to be discouraged by the direction of the campaign and comments that are made. And I did not think yesterday's speech was the type of speech that one would give who wants to lead this country through difficult times."
Ohio Senator Rob Portman, who's up for re-election, said he opposes Trump's immigration plans. He shrugged when asked how hopeful he is that Trump will change before November.
"I don't know," Portman said. "Hard to predict."
As Trump closed in on the Republican nomination in March, numerous Republican elites threw their support to him on the belief that he would moderate his approach to appeal to a general electorate. His recent controversies—including an attack on the ancestry of a Hispanic-American judge overseeing fraud cases against Trump University—have prompted fresh doubts among Republican senators.
Senate Majority Leader Mitch McConnell, who has endorsed Trump, was speechless Tuesday when asked about Trump.
"I'm not going to be commenting on the presidential candidate today," he told reporters at his weekly press conference.
House Speaker Paul Ryan, who recently endorsed Trump after initially holding out, reiterated on Tuesday he does "not think a Muslim ban is in our country's interest." Ryan took the rare step in December of condemning the idea after Trump proposed it, arguing that it wasn't reflective of conservatism or American values.
Americans don't expect Trump to reinvent himself, according to a Bloomberg Politics survey taken June 10-13. Sixty-four percent of likely voters said he will continue to say things that upset members of his party, while just 30 percent said they expect he will tone it down, according to the poll.
In retrospect, the belief within the Republican Party that Trump would change may have been wishful thinking. He made his intentions clear at a testy press conference two weeks ago at Trump Tower in New York.
"You think I'm going to change?" he said. "I'm not changing."