Merkel Says China Increasingly Becoming Germany's Economic Rival
by
Chancellor wraps up China visit amid trade, investment tension

Don't sweep conflicts under the carpet, German leader says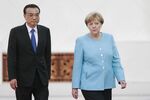 German Chancellor Angela Merkel said China's push to produce higher-value exports is turning the country into a competitor in global markets, underscoring European concern about Chinese trade and investment.
A three-day trip to China that included joint cabinet talks in Beijing and a visit to a BMW AG joint venture was partly a chance to ensure that "diverging interests" between the two countries "aren't swept under the carpet," Merkel told reporters in Shenyang on Tuesday.
"It's good for us that we can cooperate with one another -- that secures jobs in Germany as well," Merkel said after touring the BMW plant. "But one also sees that, step by step, competition is developing, because people in China also want to get ahead and make products of their own."
Merkel's visit was overshadowed by a dispute over Chinese steel exports to the European Union and China's demand to be granted market-economy status by the EU. There's also resistance in Germany to Midea Group Co.'s bid for Germany robot maker Kuka AG, whose machinery is used in many foreign manufacturers' plants in China. It was the German leader's ninth trip to China in a decade as chancellor.
Merkel said she and Chinese leaders had "very intensive" talks on China's bid for market-economy status, which would make EU penalties against Chinese exports such as steel more difficult. Members of the European Parliament passed a resolution in May that opposes granting China that prize.
The EU still has "some work to do" on dealing with China's demand, Merkel said Monday at a news conference alongside Chinese Prime Minister Li Keqiang in Beijing. "It doesn't do us any good to inject too much emotion into all of this."
Li reiterated that China is seeking to modernize its economy. Moving up the manufacturing value chain was a central piece of the five-year development plan China approved in March.
"We actually don't want to be making cheap products, for example raw steel," Li said. "Consequently, we will accelerate structural change."
Before it's here, it's on the Bloomberg Terminal.
LEARN MORE