politics
Bill Clinton Says Foundation Will Change If Wife Elected President
By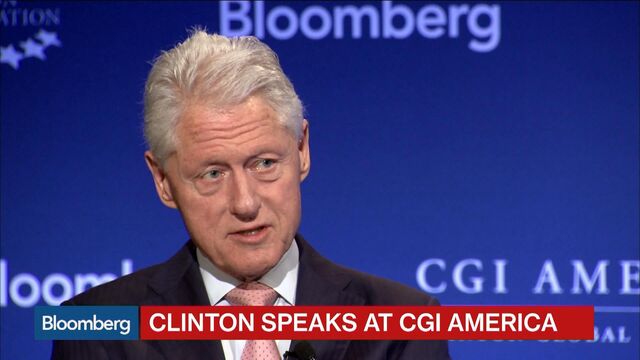 Bill Clinton said the work and structure of the Clinton Foundation will change if his wife, Hillary Clinton, is elected president.
"There'll clearly be some changes in what the Clinton Foundation does and how we do it, and we'll just have to cross that bridge when we come to it," the former president told Bloomberg Television's David Westin at a Clinton Global Initiative event Tuesday in Atlanta.
Clinton didn't detail how the foundation might evolve or what planning was being done.
The philanthropic foundation has been a source of controversy in presumptive Democratic nominee Hillary Clinton's presidential campaign, largely to due to contributions it accepted from foreign governments while she was secretary of state, raising questions about whether donors had influence over policy.
"You have to be careful to avoid actual or potential conflicts of interests," Bill Clinton said. "We'll think very clearly about it and we'll do the right thing.''
Hillary Clinton said in an interview on MSNBC in March that the answer would be "complete transparency'' about donations.
Donald Trump, the presumptive Republican presidential nominee, has sought to make the foundation's donor base an issue. In a Facebook post on Monday, he said Clinton should "immediately return the $25 million plus'' the foundation has received from Saudi Arabia after she called on the Saudis and other Middle Eastern countries to end support for schools and mosques that promote radical ideology.
Bill Clinton also addressed the terrorist attack Sunday in Orlando that killed 49 people, endorsing the approach to dealing with lone wolf extremists that Hillary Clinton outlined in a speech Monday. That includes tightening domestic security, closer monitoring of potential threats and tighter firearms laws.
Clinton said the now-expired assault weapons ban he signed into law while president "worked pretty well" and that more Americans "will die" with those weapons on the streets. It expired in 2004 and Congress did not renew it.
"It's pretty clear if you're firing a lot of ammo in a short amount of time with a weapon that's designed to kill then more people will die," the former president said two days after a gunman used an AR-15 assault rifle to massacre at least 50 people at an Orlando nightclub in the worst mass shooting in U.S. history.
Talking about the level of discourse in the current presidential campaign, Clinton said the harshness of the debate has been amplified by changes in how people get and deliver information.
"It's easier to say things that don't make a lick of sense now because so many of our people are siloed in misinformation," he said.
Before it's here, it's on the Bloomberg Terminal.
LEARN MORE