Microsoft Pays $26 Billion for LinkedIn in Biggest Deal Yet
By and
LinkedIn helps Microsoft accelerate shift to enterprise

Transaction is one of biggest in tech industry to date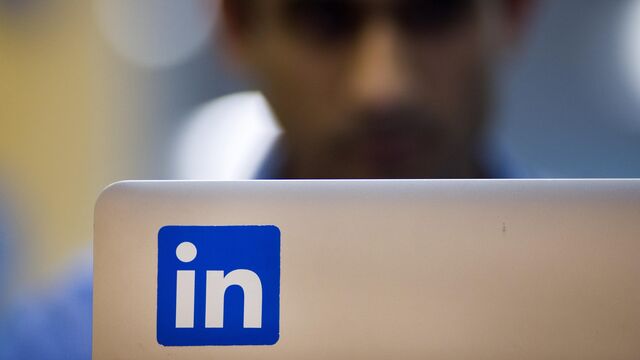 Microsoft Corp. is acquiring the professional social network LinkedIn Corp. for $26.2 billion, one of the largest technology-industry deals on record, as the maker of Windows software attempts to put itself at the center of people's business lives.
The deal is a way for Microsoft, which largely missed out on the consumer Web boom dominated by the likes of Google and Facebook Inc., to sprint ahead in social tools -– in this case, for professionals. While Chief Executive Officer Satya Nadella has drawn kudos for efforts to reshape the company and reignite sales growth, the board is urging an even faster shift toward software and services delivered over the Internet.
Microsoft will pay $196 per share in an all-cash transaction, including LinkedIn's net cash, a 49.5 percent premium to LinkedIn's closing price Friday. LinkedIn will retain its brand, culture and independence and Jeff Weiner will remain CEO of the social network, Microsoft said in a statement Monday. The price relative to LinkedIn's earnings makes the transaction the most expensive of any major deal this year, according to data compiled by Bloomberg.
"This is about the coming together of the leading professional cloud and the leading professional network," Nadella said in an interview. "This is the logical next step to take. We believe we can accelerate that by making LinkedIn the social fabric for all of Office."

The deal is the biggest ever for Microsoft as Nadella, 48, focuses on appealing to business customers with cloud-based services and productivity tools rather than regular customers. In a presentation announcing the deal, Redmond, Washington-based Microsoft outlined a vision in which a person's LinkedIn profile resides at the middle of other pieces of their work life, connecting with Windows, Outlook, Skype, Office productivity tools like Excel and PowerPoint, and other Microsoft products. 
Microsoft's Cortana digital assistant could provide users with information pulled from LinkedIn about participants in an upcoming meeting, for example, while a LinkedIn news feed will serve up articles based on projects that users are working on. Other products could include a kind of consulting service that will suggest an "expert" who might be able to help with a given project.
For a quick wrap of the analyst commentary on the deal, click here.
Microsoft could build LinkedIn, the largest global professional network, into a major customer relationship management software system for salespeople, pushing into an area dominated by Salesforce.com Inc., said Anurag Rana, a senior analyst for Bloomberg Intelligence.
"LinkedIn could really become a really big competitor for Salesforce going forward," he said.
Building Relationships
LinkedIn's analytics will help power data tools for Microsoft's Dynamics, which competes with Salesforce in helping companies manage relationships with their customers.
While Nadella and Weiner had spoken many times about partnerships, they first met to discuss a potential acquisition deal in February. LinkedIn had just given a lower-than-expected revenue forecast that caused its stock to fall more than 40 percent in a day.
"In that very first meeting, we both got excited as we were brainstorming and riffing a bit about the things we could do in combination, combining the world's professional network and the world's professional cloud," Weiner said in an interview Monday.
Deal Dinners
What piqued Weiner's interest most was Nadella's idea for the structure of the organization -- that LinkedIn could continue to operate independently like Facebook's WhatsApp or Google's YouTube but still rely on Microsoft for a boost in potential customers. In April, several executives met for dinner, where they spent the evening discussing ways they could make their technologies work in concert. Attendees included the CEOs, as well as LinkedIn Chairman Reid Hoffman and Microsoft executive Qi Lu, who had worked with Weiner at Yahoo! Inc., according to people familiar with the matter.
A dinner Sunday night with both executive teams was more casual, with an icebreaker game to deepen their relationship. The attendees were asked to share something about themselves that was not on their LinkedIn profiles, the people said.
Shares Surge
LinkedIn shares surged 47 percent to $192.21 in New York, their biggest advance since 2011. They had declined 42 percent this year through Friday as investors began to question the company's long-term prospects. Microsoft fell 2.6 percent to $50.14. Twitter Inc. jumped as much as 9.1 percent amid speculation that it could be in play as well before paring some gains to close up 3.8 percent at $14.55.

The $26.2 billion offer values LinkedIn at about 91 times earnings before interest, taxes, depreciation and amortization, according to data compiled by Bloomberg. Excluding net cash, the multiple is about 84 times Ebitda. That's the highest of any takeover valued at more than $5 billion this year, the data show.
On a conference call, Microsoft said it's confident in the cash position it has and that the company will keep investing for growth.
However, the debt-financed LinkedIn deal gave Moody's Investors Service pause. The agency placed Microsoft's debt rating under review for downgrade, saying the purchase will increase Microsoft's gross debt to two times Ebitda, exceeding the 1.5 times leverage Moody's has said could pressure the rating.
Microsoft and Johnson & Johnson are currently the only two U.S. companies with a AAA credit rating.
Viral Growth
Microsoft made several big acquisitions over recent years under previous CEO Steve Ballmer, though many of them have not panned out as hoped. Microsoft has largely written off it's $9.5 billion purchase of Nokia Corp.'s mobile phone business, Skype hasn't matched the promise of integrating into other products after the $8.5 billion deal in 2011, and Yammer has been a mixed bag after the corporate social-network operator was bought in 2012. Nadella's 2014 purchase of Mojang AB, the maker of the Minecraft video game, has been a bright spot.
When assessing acquisitions, Nadella thinks about whether the target would expand market opportunity, ride the technology waves of the future and be at the core of Microsoft, he said in an interview with Bloomberg Television. Buying LinkedIn "checks all those boxes," he said.
For an analysis of Microsoft's track record with acquisitions, click here.
LinkedIn has long been valued for having the potential viral growth of a social network with the recurring revenues of a software-as-a-service business. But recently, growth has started to slow and it's been more difficult to get people to return to the site and pay for services. The company has been rethinking its strategy, redesigning its suite of mobile applications to make the product easier to use. Combining with Microsoft would give LinkedIn a boost in members with reasons to visit, making it more useful if people are sharing updates more frequently.