How Microsoft Thinks Office Can Help LinkedIn and Vice Versa
Microsoft says there's a big opportunity in blurring the lines between professional networking and actually working.
by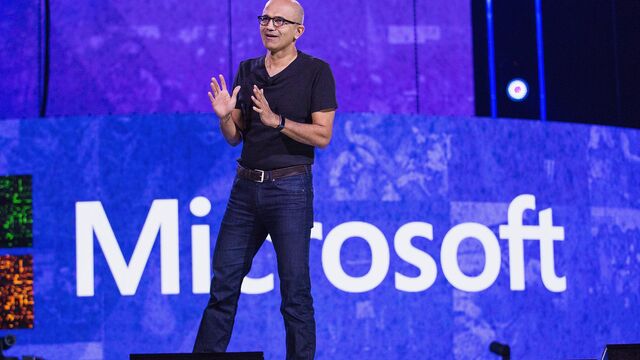 As it stands now, LinkedIn is generally a place where people go when they're looking for work, and Microsoft Office is a tool they use to actually do work. Keeping those two activities separate limits their appeal: Many people just don't see a  reason to check in on their LinkedIn accounts very often. Microsoft's $26.2 billion acquisition of LinkedIn—one of the biggest deals ever in the tech industry—is based on the theory that people will start using both LinkedIn and Microsoft Office more if they're combined. 
In a presentation to investors on Monday, the companies stressed how much the two services could reinforce one another. LinkedIn has information that can help Microsoft Outlook users do last-minute prep for meetings. The same goes for a Skype call, or maybe even a document being shared through Office365. At a time when there's a layer of social networking laid on top of just about everything, running a suite of productivity software that's largely isolated can be a big disadvantage.
By buying LinkedIn, Microsoft is giving Office a social network of its own. In theory, it's the perfect fit, because both are focused tightly on the working world. The collaboration could get people to use Microsoft software more often, making it less likely that they'll cancel their subscriptions at the end of the year. Having access to LinkedIn's data will also help make Microsoft's personal assistant, Cortana, a bit smarter. Microsoft gives the example of the virtual assistant telling someone that the person she's meeting with went to the same college she did, and giving her a quick update on how the school's sport's team did, presumably to give her some easy fodder for chitchat. 
For LinkedIn, the hope is that people will find more use for professional networking if they do it while they're actually working. While many people use LinkedIn now, fewer than a quarter of those with accounts actually sign into the service on any given month. 


LinkedIn has sought to boost engagement in various ways. The company has tried to turn itself into a destination for professional news, cultivating a stable of writers it calls Influencers, and buying a few startups making readers and other news-related products. Last year, LinkedIn also spent $1.5 billion to buy Lynda, which makes tutorials on various subjects. But the proportion of LinkedIn members who sign in to the site each month has been slowly dropping. That's a pretty bad sign for any social network. 
In its presentation, Microsoft brought up both news and tutorials as areas where it can help LinkedIn add users, bringing in additional revenue from direct payments and advertising. Meanwhile LinkedIn will provide a range of other opportunities to Microsoft's other work-related businesses. The world's largest software maker is making a pretty big bet it can pull this one off. 
Before it's here, it's on the Bloomberg Terminal.
LEARN MORE